Kana Pure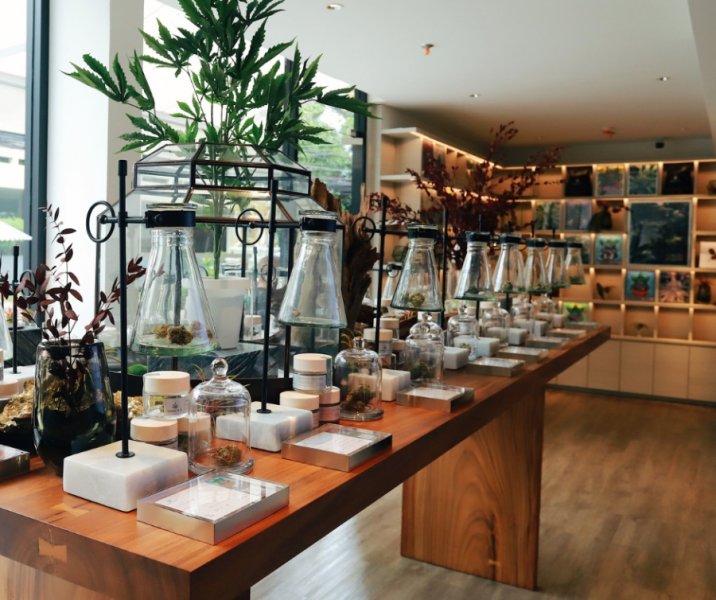 [Sponsored Entry]
One of the things that makes Kana Pure special is that they grow their own medical-grade cannabis in conjunction with Rajamangala University of Technology in Nan Province. Kana Pure's products are grown in an environmentally-controlled indoor facility with strict quality control measures to make sure products are free from impurities with no pesticides or aflatoxins. Their experienced budtenders are ready to assist cannabis-users from the curious to the experienced and give recommendations on their 15 strains on offer. Set in a bright, clean, and modern space, Kana Pure has a welcoming, calm and comforting vibe.
See Kana Pure's Facebook and Instagram page
70, Soi Sukhumvit 16, 065-928-7287. Open Mon-Sun, 11am-9pm.
Nana Weed Station
[Sponsored Entry]
With a prime location right on Sukhumvit next to Nana Station and Landmark Hotel, Nana Weed Station is a dispensary with friendly, English-speaking staff ready to answer any questions for customers' smoking needs. First timer? Nana Weed Station will help you try it out. They've got a variety of products to suit all tastes with as many as 22 strains on their menu and additionally sell Kratom products, such as OG Kratom drinks and tablets. They offer a rolling service and you don't have to buy in bulk here – you can buy as little as 0.5 grams.
See Nana Weed Station's Facebook and Instagram page
128, Sukhumvit Rd., 065-994-6550. Open daily, 10am-2am.
The Dispensary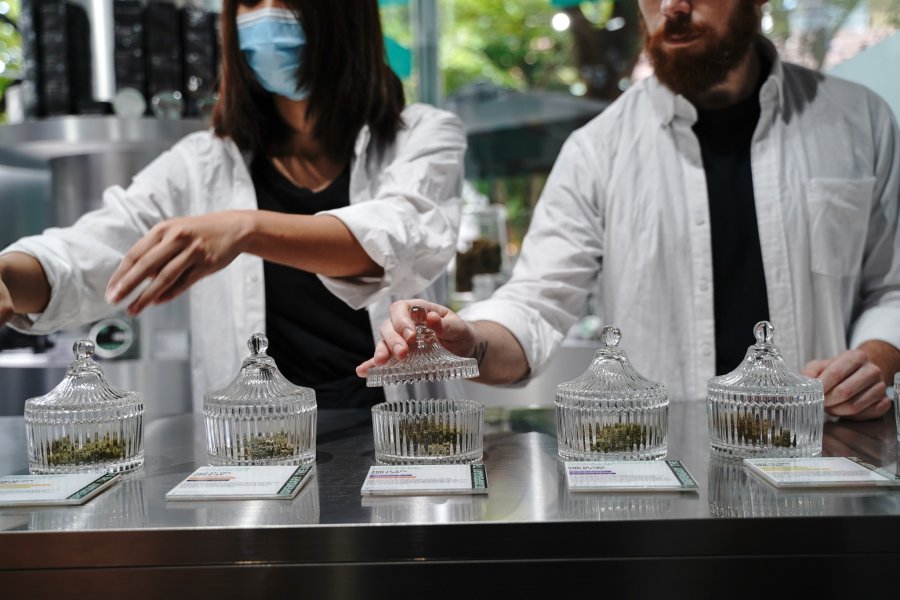 [Sponsored Entry]
The lovechild of Taratera, a vertically-integrated cannabis startup rooting back to 2019, The Dispensary is one of their shop locations at The Commons Sala Daeng. With state-of-the-art indoor farms in Samut Songkhram and other partner growers, Taratera takes "mad love for the flower" and offers up what they describe as a seamless and artful end-to-end experience for cannabis-seekers with expert budtenders at your service. Customers can expect to find unique cultivars as well as classic strains here.
They've been ahead of the curve, cultivating more than 200,000 cannabis plants a year to be used in academic research and development and the cosmetics sector, prior to the recent deregulation.
See The Dispensary's Facebook page, Instagram page, and Line account.
The Commons Sala Daeng, 126 Sala Daeng 1 Alley, 06-3146-1650. Open Sun-Thurs, 10am-8pm, Fri-Sat, 10am-9pm.
Stash
[Sponsored Entry]

If you're looking for a chilled out place to shop and smoke discreetly, Stash dispensary is set up just for you. Their shop has a private second-floor balcony that's reserved exclusively for smoking. They have a huge selection of different papers and smoking accessories and even their own rolling paper brand (coming soon!). The shop's got 20 different strains starting from B100, plus, pre-rolls, CBD products, kratom soda, and capsules. Stash is working on building a community with different events and activities around DJs, gaming, meetups, and more, so watch their space for fun stuff ahead.
See Stash's website and Facebook page. Line ID: @stashbkk

The Beacon Place, 12, Sukhumvit 50 Ally, 099-332-0049. Open Sat, 4:20pm-12am.
No Man's Land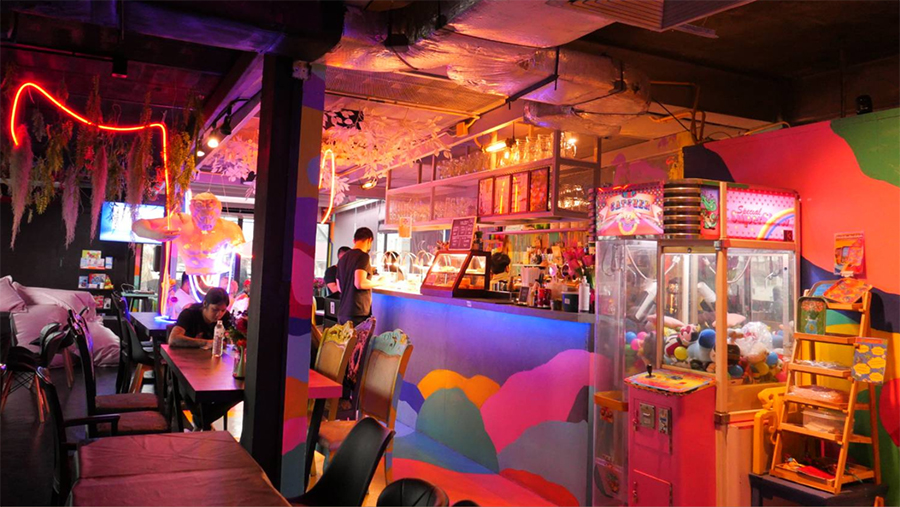 [Sponsored Entry]

Stoners can find not just a shop, but a community at No Man's Land. Shop cannabis which is sold in a variety of strains (rotated on a weekly basis!) and also hangout all day: they've got a video game and board game corner, a "lay down" corner for those feeling chill, and a creative corner for those buzzing. Food and drinks are also available. Live music every Friday night, plus check out their seasonal rooftop moo-krata that's only available in winter, and a VIP zone on the 4th floor, coming soon.
See No Man's Land's Facebook and Instagram page. Line ID: @nomansland

1375, Charoen Krung Rd., 063-223-2282. Open Mon-Thurs, 11am-10pm, Fri-Sun, 11am-11pm.
Ministry of High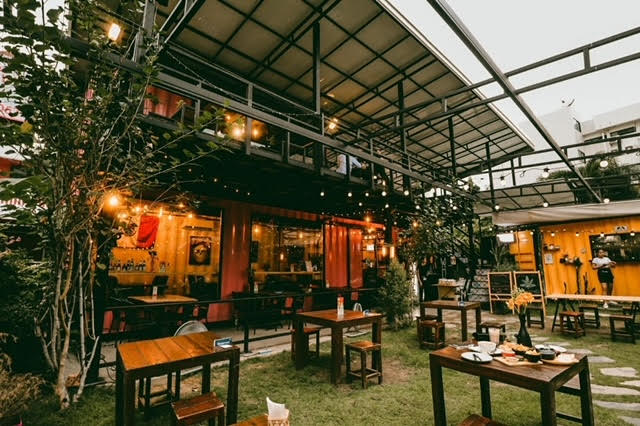 [Sponsored Entry]
Ministry of High boasts a range of 'designer cannabis goods' and what sets this dispensary apart from the pack is that they have their own cannabis products that they design and produce themselves. Among these include a series of dope designer ceramic bongs. Their showroom is set on the second floor of Missing Burro Mexican Restaurant, which offers a chill pocket in otherwise busy Thonglor (and authentic Mexican food!). Plus, there's a garden area that's spacious and open air and is also pet friendly – a true smoker's oasis. Online orders and delivery available, Mon-Sat.
See Ministry of High's website, Line account, and Instagram page
145, Sing Waet Lom Alley, 063-542-4666. Open Thurs-Sat, 5-11pm.
Blak Ruby Dispensary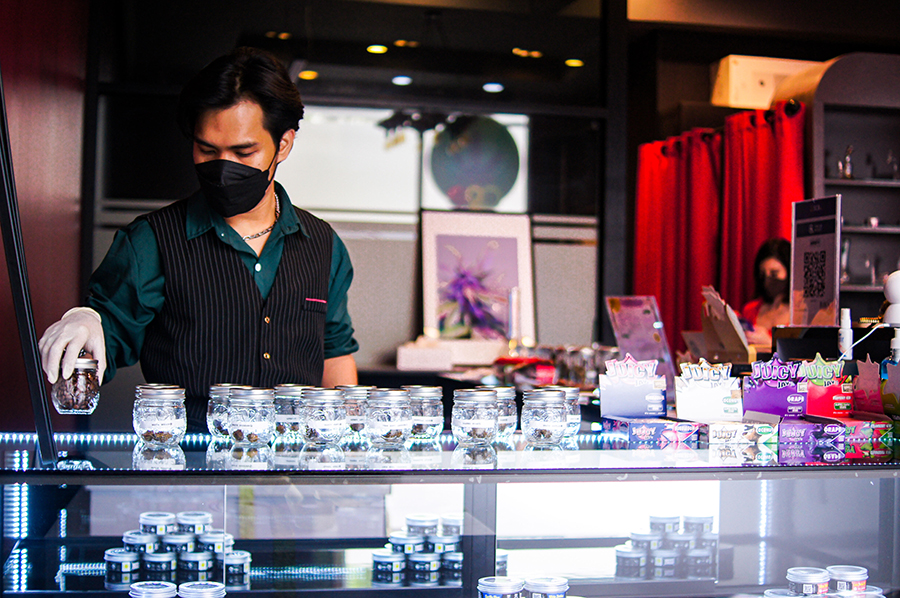 [Sponsored Entry]
With plush ruby red curtains and accents, and the shop's cool black walls, stepping into Blak Ruby Dispensary feels like a walk into a luxurious speakeasy-style bar – but for cannabis! The team behind Blak Ruby pride themselves on being highly selective when choosing products, carefully curating their stock from farms with certified cannabis growing licenses and lab test reports, with many bud strains on offer and new rotations every month. They have a smoking room on the premises if you want to live out your sexy luxe lounge dreams and they offer delivery service nationwide, available 12pm-12am.
See Black Ruby's Facebook, Instagram and TikTokpage.
261, 3 Tambon Khlong Yai, 095-542-4555. Open daily, 5pm-12am.
Greenday Dispensary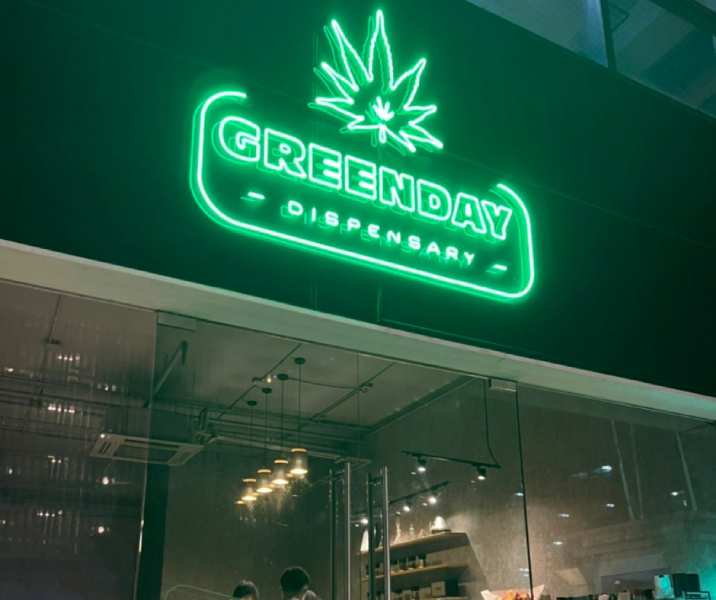 [Sponsored Entry]
This dispensary has location on its side, conveniently on Sukhumvit 24 across from Lawson, easily reachable by BTS or car, with parking available right in front of the shop. Greenday carries a variety of strains from Local Landrace to those of the more exotic kind. They are also a distributor of some canna-related products that you can't find just anywhere, like Boveda 2-way humidity control packs from the USA, Shine 24K Gold Rolling Papers, edible-making machine, Magical Butter, and much more!
See Greenday Dispensary's website and Facebook page
924 The Residence Sukhumvit 24, Bangkok, 098-965-4244. Open daily, 12pm-9pm.
Choo Choo Hemp
[Sponsored Entry]
Located right in front of Samithivej Hospital, Choo Choo Hemp dishes out cannabis bouquets of all grades and boasts a huge selection of over 90 strains from quality, pesticide-free growers in Thailand, including both local and exotic varieties. Their shop welcomes customers to the "dank side" and has a place to relax and smoke with help from their budtenders and sells a variety of edibles, CBD oils, Kief, pre-rolls, plus a large selection of cannabis equipment like bongs, papers, grinders, and more. They also have a weed Gashapon machine that you can play to win a random top shelf weed, at THB500 per pull.
See Choo Choo Hemp's Facebook page
108, 4-5 Sukhum Vit 49, 081-644-0515. Open daily, 10am-1pm.
Never Not High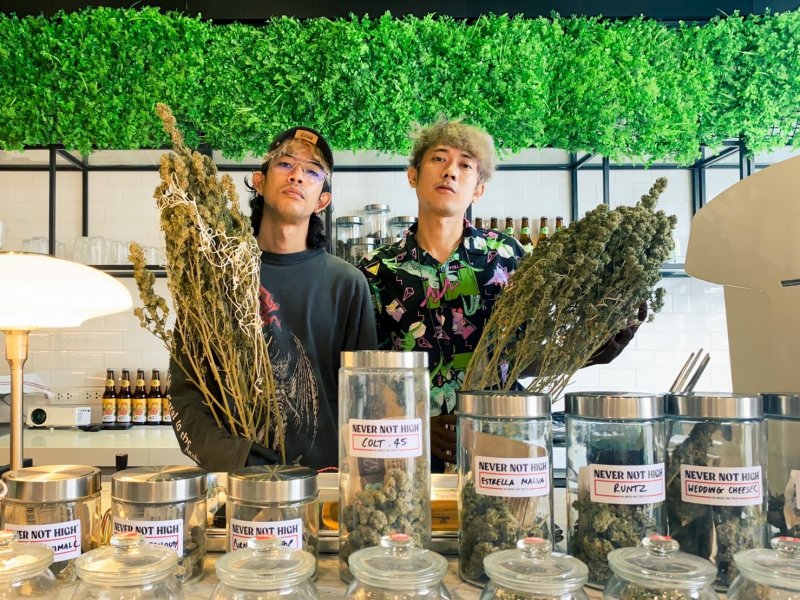 Photo: Never Not High / Courtesy
[Sponsored Entry]
Located in Phra Nakhon, this is a laid back, grass-roots, community dispensary co-owned and run by a group of four artists and weed enthusiasts: main grower, Kan (Sorayut Kongmee), the vocalist of a local band called THE JUKKS; Ter (Teve Francis) the band's bassist; co-owners Helena (Helena Amarantinis Phansook) and Boss (Purich Phansook) are both in a band called KIKI. The shop has a friendly vibe and loves to help new smokers learn more about cannabis and how to properly smoke. They're happy to help guide customers through their stock, which also includes local drinks and even local CBD tea.
RoLoft
[Sponsored Entry]
A cafe created by a group of robot and cannabis lovers, located near Kasetsart University. Come here for great quality weed at a great price that you can smoke directly on the premises – there's even a spot for customers who are too high to chill and sleep. Using homegrown buds, the dispensary sells a wide variety of strains, along with pre-rolled joints and edibles. There's a bakery on site, churning out edibles in the form of cookies and brownies, tarts, coffee, matcha, and other treats. For something more unconventional, check out one of their original weed cocktails.
See RoLoft's Facebook page, Instagram page and Line account
2308/17, Phahonyothin Rd., 0883408997. Open daily, 11am-11pm.
Finding Rainbow
[Sponsored Entry]
Nearest dispensary to airport with high-tech cured cannabis, raised by Finding Rainbow's passionate master grower. The special equipment maintains constant curing temps and optimum humidity levels. The dispensary's flowers are fragrant, colorful, and come in a variety of textures with a Gold strain medical grade cannabis cured for 6 months and a Platinum strain for 12 months. Come enjoy a side of jazz with your bud – the master grower once played jazz trumpet in Boston – and check out upcoming live music events. Cash on delivery available, every day until late. Pattaya Branch is coming soon!
See Finding Rainbow's Instagram page and website
1/F TPN Culinary Studio, 163/31,33, 35 Sanphawut Rd., 064-695-5645. Open Mon-Sat, 9am-6pm.
Alchemi Botanics
[Sponsored Entry]
One of Thailand's first cannabis shops, Alchemi Botanics Phra Khanong is a stone's throw away from BTS Phra Khanong. They have opened a second branch in Huai Khwang, 200m from Huai Khwang MRT. The shop takes pride in their large selection of strains at a reasonable price point and strict quality control measures. Founding team members have longtime cannabis industry experience from cultivation to processing with degrees in agriculture and cannabis related research. They'll teach you everything from bud selection to terpene profiling and much more. Stop by or DM them for their latest strain offerings.
See Alchemi Botanics' Instagram page. and LINE account

24/22, Soi Sukhumvit 69, 064-575-8635. Open daily, 11am-9pm.
Weed Express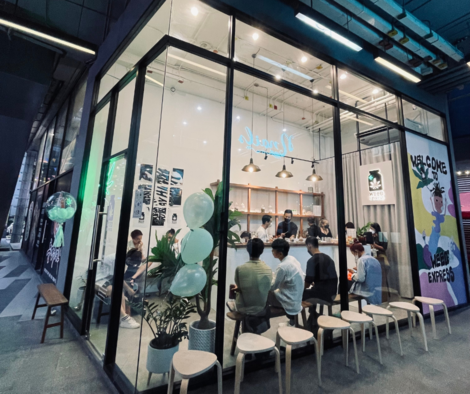 [Sponsored Entry]
Just as its name indicates, Weed Express is a dispensary made for quick and easy cannabis access in a convenient downtown Bangkok location near the BTS – but they also have a delivery service if you want the ultimate convenience of ordering from your phone. With a friendly staff eager to give recommendations for all your weed needs, and set in a welcoming store atmosphere with a cozy vibe, Weed Express has a variety of quality selections of cannabis grade, including exotic, top-shelf, and AAA+.
See Weed Express' Instagram page. Line ID: @weedexpress
1/F, Summer Hill (BTS Phrakanong), 1106 Sukhumvit Road, 080-405-6519. Open daily, 11am-9pm.
Project420
[Sponsored Entry]
Situated in the heart of Nonthaburi, Project420 is a premium cannabis boutique with a friendly staff featuring high-quality bud at an affordable price. Their top-quality cannabis flowers are meticulously grown by industry veterans and curated by cannabis connoisseurs. The shop, with a waiting area and 30+ parking spaces, is conveniently located near famous cafe Project: Box and The Mall Lifestore Ngamwongwan. Whether you're a beginner or a long-time user, pay the shop a visit to see their latest available products, now featuring over 10 premium cannabis strains.
See Project420's website and Instagram page
1, Ngamwongwan18/1, 064-536-6428. Open Sat-Sun, 2-8pm.
Wake N Bake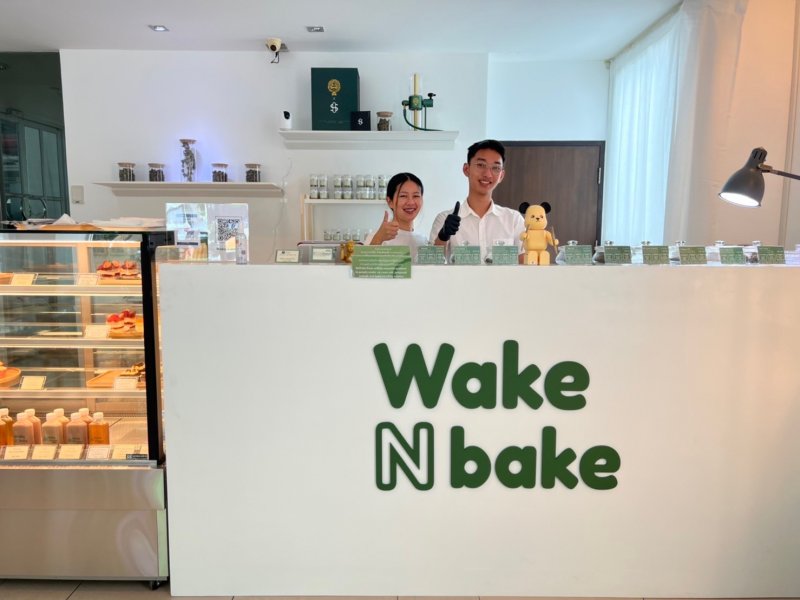 [Sponsored Entry]
This dispensary is a bake shop in more ways than one. The shop sells exotic grade cannabis flowers ranging from B400 to B800. The owner also happens to be a big shareholder at state-of-the-art medical grade indoor farm, Medicana Labs. But don't sleep on the bakery, which has a range of both CBD-infused and non-cannabis goodies, all made by a pastry chef with a baking degree from Sweden. Smoking gear like rolling paper, lighters, and plastic grinders for sale. We love the convenience: credit cards are accepted at the shop and deliveries through the Grab app are available.
See Wake N Bake's Facebook and Instagram page. Line ID: @wakenbake.th
The Pentacles (Thonglor 15), 303 Soi Thong lor 15 Sukhumvit 55, 061-861-0404. Open daily, 11am-9pm.
Space Time
[Sponsored Entry]
This dispensary feels like a step into a space station (that will take you *high* to outer space), with its eye-catching neon blue decor. Come for the super cool space-theme, stay for the wide variety of bud (they have 15-20 different cannabis strains!), plus the massive bong selection (they have over 100 different kinds of bongs, pipes, and other smoking accessories!). Cannabis sold here is locally sourced from farms around Thailand under strict quality control. Their knowledgeable staff is ready to answer any questions and give out advice to new and old smokers alike.
See Space Time's website, Facebook page, and Instagram page

417, Soi Bangna-Tard 17, 097-250-4634. Open daily, 10am-10pm.
Smilemacy
Photo: Smilemacy / Courtesy
Self-advertising as "quality holy plants, from farm to table," Smilemacy sells herb and smoking accessories. And by accessories, we mean serious equipment, like the V3 PRO Dry Herb Vapouriser by XMAX, the Dynavap M2021, and the Storz & Bickel Volcano Hybrid.
77, Soi Ekkamai 21, 089-416-2615. Open daily, 11am-8pm.
Joint Us
Photo: Magicleaf / Courtesy
With a shopfront on Khaosan Road, Joint Us sells a small range of indica, sativa, and hybrid flowers. Sour Diesel and Lemon Haze from THB550, Ice Cream Cake from B750 on the high end, and Cookies Kush from B380 on the lower end, for instance.
Buddy Group building, 265, Khaosan Rd., 098-832-7262. Open Tues-Sun, 4:20-11pm.
Magicleaf
Photo: Magicleaf / Courtesy
A tiny little shop squeezed between buildings on Soi Sukhumvit 23, this dispensary may be one of Bangkok's smallest, but customers have praised it for having great service, a multilingual staff, and quite a variety of quality weed on offer. They also do delivery.
Soi Sukhumvit 23, 084-210-7708. Open daily, 11am-9pm.
Mary Jane Bangkok
Photo: Mary Jane Bangkok / Courtesy
Just a 2-minute walk from Nana Plaza, Mary Jane prides itself on quality buds and offers certificates of analysis on all strains they sell so customers know what they're getting. Apple Fritter, Georgia Pie, and Gorilla Glue #4 are just some of the strains they have for sale.
106 Sukhumvit Rd., 061-406-9420. Open daily, 10am-2am.
Best Buds
Photo:
Best Buds

/ Courtesy

This medical grade cannabis dispensary has established a new branch on the third floor of Korean Town Sukhumvit 12 in between the Asoke and Nana BTS stops. They've got a big area to chill out at — a cozy environment for whether you want indica, sativa, or both in the form of a hybrid!

See Best Buds' website

3/F, 212/33 Korean Town, Sukhumvit 12 Alley, 094-410-2796. Open daily, 2-10pm.
GreenHead Clinic Khaosan
Photo:
GreenHead Clinic Khaosan

/ Courtesy

A clinic with doctors ready to give advice, care, and treatment for cannabis users. They also sell various cannabis flowers, CBD oil, THC oil, brownies, jelly, and cosmetics with hemp and cannabis.

See GreenHead's website

149, Thanon Tanao, 083-826-4166. Open daily, 12pm-1am.
Arcadia barcade
Photo: Arcadia/Courtesy
A craft beer arcade with a rooftop smoking lounge, Arcadia sells about a dozen strains by the gram (THB400-900) and joints (THB300-500), as well as cocktails and kratom sodas. Play video games in a neon glow at this sci-fi noir, '80s-themed arcade heavily influenced by Blade Runner, and even stay upstairs in one of its 420-friendly Airbnb rooms. Parking available.
1112/24 Soi Sukhumvit Plus, 064-949-9744. Open Tue-Sun, 10am-midnight.
Thai Cannabis Club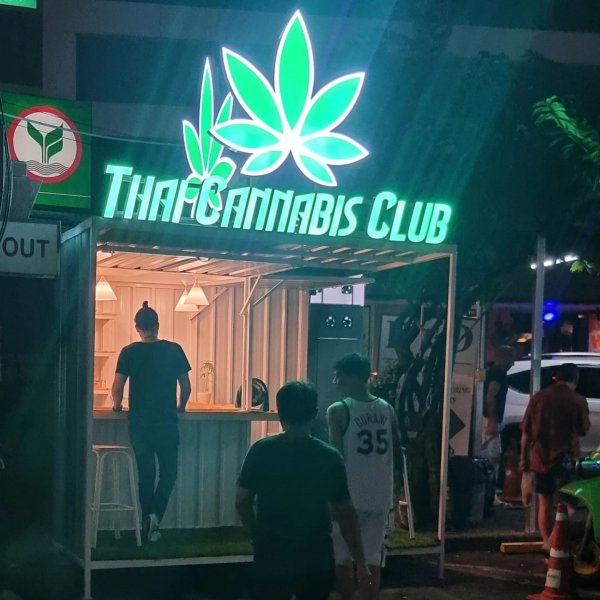 Photo:
Thai Cannabis Club / Courtesy

A dispensary with a massive stock catalog, Thai Cannabis Club sells a wide selection of flowers, pre-rolled joints, and other smoking-related products. They offer same-day delivery in Bangkok and Pattaya, plus courier service to other spots in the country.

See Thai Cannabis Club's website

Nana Hotel, Sukhumvit 4 Alley, 081-073-2522. Open daily, 10am-3am.
Royal Queen Seeds
Photo: Royal Queen Seeds / Courtesy
Royal Queen Seeds has an extensive online shop with physical shops in Spain and the Netherlands, and now Thailand. The Bangkok branch of this shop is just a 2-minute walk from the Asok BTS stop. They sell quality bouquets and a whole lot of cannabis seeds.
See Royal Queen Seeds' Facebook page
8-8/1-2 Khlong Toei, 084-729-1125. Open daily, 10am-12am.
WholeWeed House
Photo: WholeWeed House / Courtesy
If you're looking for cannabis presented in some very creative forms, check out WholeWeed House, a homey coffee joint in central Bangkok with all sorts of edible delights, including a full menu of treats like toasties, pastries, and other desserts.
See WholeWeed House's website
37/1, Prasarnmitr Sukhumvit 23, 081-484-1234. Open daily, 9am-6pm.
RoLoft Khaosan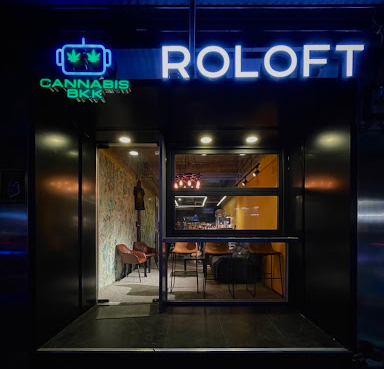 The sister shop of RoLoft near Kasetstart University, this dispensary has the same fun robot theme and is a great stop to shop, hangout, and smoke for cannabis-loving video game fans. The dispensary has a great view of Khaosan Road on the second level.
See RoLoft's Facebook page
139, Thanon Tanao, 088-340-8997. Open daily, 10am-2am.
Midnight Hightime
Photo: Midnight Hightime / Courtesy
Midnight Hightime has dispensaries selling CBD, THC, and alcohol in two locations: a new shop in Suan Plu and its flagship in Sathorn, which has a smoking area for customers to light up on the premises. Their focus is on top shelf level quality cannabis and up.
6, Soi Chan 16, 094-959-4298. Open daily, 12pm-2am.
Bloom
Photo: Bloom / Courtesy
Bloom is an online store selling all sorts of products: everything from "Thai Stck 'OG Kush' Cannabis Terpene Inhaler" to hemp-flavored ice cream to scented candles to CBD popcorn and more. They do standard one-day shopping for orders in Bangkok and 2-3 days for the rest of Thailand.
See Bloom's website
10, Soi Sukhumvit 13, 064-956-5652.
Candymanbangkok
Photo: Candymanbangkok / Courtesy
A multi-farm "candy shop" for weed lovers that advertises itself as strictly "chemical free," Candymanbangkok is a dispensary that promises customers the ability to match them with their "soulmate strain."
See Candymanbangkok's Facebook page
3641/12, Charoen Rat Rd. Open Tue-Sun, 3-9pm.
Cybrweed
Photo: Cybrweed / Courtesy
Cybrweed is a cool dispensary selling a range of flowers in a *high* vibrations setting. The dispensary is dipping into events, kicking things off with Drip & Roll, featuring drip coffee and a workshop on properly rolling. Bulk supply also available.
47, Phatthanakan 58, 094-556-5041. Open Tues-Sat, 4:30-10pm; Mon, appointment only.
420 Forest Park
Photo: 420foresfpark / Courtesy
A Thai farm growing medical grade cannabis with a shop at neighborhood-lifestyle mall, K-Village. The shop is keen to educate about marijuana, stay tuned for workshops and events.
See 420 Forest Park's Facebook page
93, 95 Soi Sukhumvit 26, 080-111-9944.
Anubis Bangkok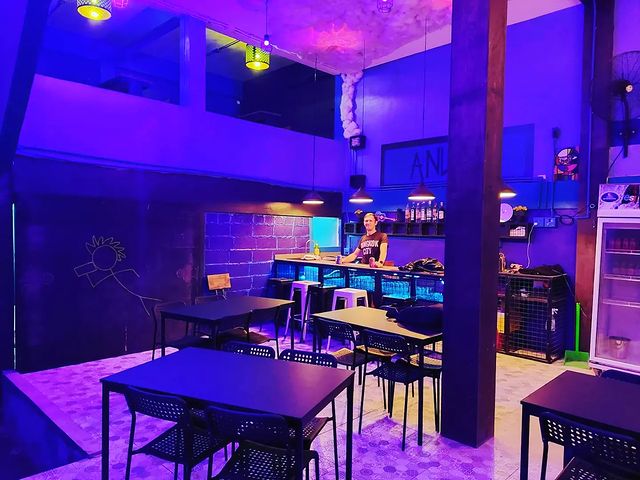 Photo: Anubis Bangkok / Courtesy
Anubis is a colorful live music venue, art space, craft beer bar, and weed seller located in Asok, Central Bangkok.
See Anubis Bangkok's Facebook page
120/17, Sukhumvit Soi 23, 062 852 2893. Open Tues-Sun.
Weed Express
Photo: Weed Express / Courtesy
Located at the Summer Hill shopping center in Phra Khanong, Weed Express sells bulls starting from B550 to imported strains that cost upward of B990.
Weed Express also offers bulk discounts in larger quantities from 3.5 grams to 1 ounce.
Summer Hill, 1106, Sukhumvit Rd., 080-405-6519. Open daily, 11am-9pm.
Organic Village
Photo: Organic Village / Courtesy
Longtime source of natural food and CBD products, now sells weed. Supplied by CBD marketplace Bloom,THC strains range from B550 to B700. A non-psychoactive CBD strain is available for B400. They also have a variety of CBD food and beverages.
See Organic Village's website
392/27 & 28 1/F, Rama 1 Rd., 02-658-0932. Open Mon-Fri, 8am-8pm; Sat-Sun, 9am-8pm.
Channel Weed Store
Photo: Channel Weed Store / Courtesy

A blog for 10 years focused on all aspects of cannabis culture and now, a storefront serving the northern metro area near Rangsit University. It sells strains starting at B500 (Future Sharp) to B700 (OG Kush).
Ek Thaksin 7 Road, 091-819-6281. Open Tues-Fri, 4:20-11pm; Sat-Sun, 1:20-11pm.
Weed Is Here
Photo: Weed Is Here / Courtesy
Google "Weed Is Here" and you'll find an actual storefront in Pathum Thani province. Green Crack (Thai stick) is sold for just B90 per gram. For the high-end stuff, Mandarin Cookies and StayPuff strains are sold by the gram for B750.
Nathong Charoen Market, Liep Khlong 2 Road, Pathum Thani, 082-098-8042. Open daily, 9am-12am
.
Goja
Photo: Goja / Courtesy
An art bar has added cannabis to the mix. Goja sells strains by the gram like Blue Dream and Wedding Cake for B500-600 all the way up to Mimosa for B1,000/gram. They also sell Thai stick joints for B120.
5/2 Sukhumvit 71, Soi Pridi Banomyong 3, 086-774-7797. Open Wed-Mon, 12pm-late.
MD-82 Cafe
Photo: Nicky Tanskul

Recognizable for its McDonnell Douglas MD-82 airframe, MD-82 started out as a cafe/restaurantoffering CBD-based food and drinks sourced from the medical clinic next door. Now, they're selling buds starting at B500 per gram. Interestingly, their cocktails are served in bongs.
See MD-82 Cafe's Facebook page
324, On Nut Road, 065-598-2645. Open daily, 11am-9pm.
Fat Buds (Not to be confused with Fat Budz below)
Photo: Fat Buds / Courtesy
Fat Buds is two houses down from Fatboy's Motorbike Rentals Sukhumvit. The shop contains upward of 20 strains starting at B450 for Moby Dick and Dutch Kush and running up to B700 for high-end buds like Purple Punch and Candy Breath.
See Fat Buds' website here

13/3, Sukhumvit 65, 080-391-6417. Open daily, 10am-8pm.
W Labs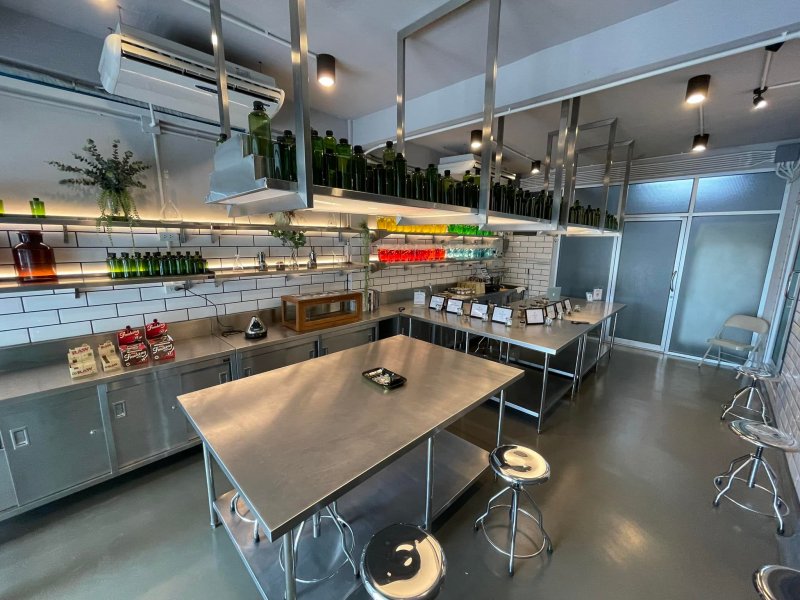 Photo: W Labs / Courtesy
Marketed as a premium medical cannabis dispensary where every strain is "lab-tested and certified," strains sold such as Tom Yum start at B700 per gram. The shop also sells lighters, rolling papers, and bongs and plans to open a smoking lounge.
See W Labs' Facebook page
566/19, Soi Sukhumvit 71. Open Thurs-Sun, 11am-7pm.
All Time High (Fat Budz)
Photo: All Time High (Fat Budz) / Courtesy
All Time High (Fat Budz) sells chunky strains by the gram from B500 for Platinum Kush Breath to B850 for Extreme Cheese and Gary Payton. The small dispensary is located on the second floor of the Terminal Building in Soi Sukhumvit 24.
See All Time High (Fat Budz)'s Facebook
2/17-19, Soi Sukhumvit 24, 2F Terminal Building, 080-005-5752. Open daily, 11am-9pm.
Thonglor Hemp Club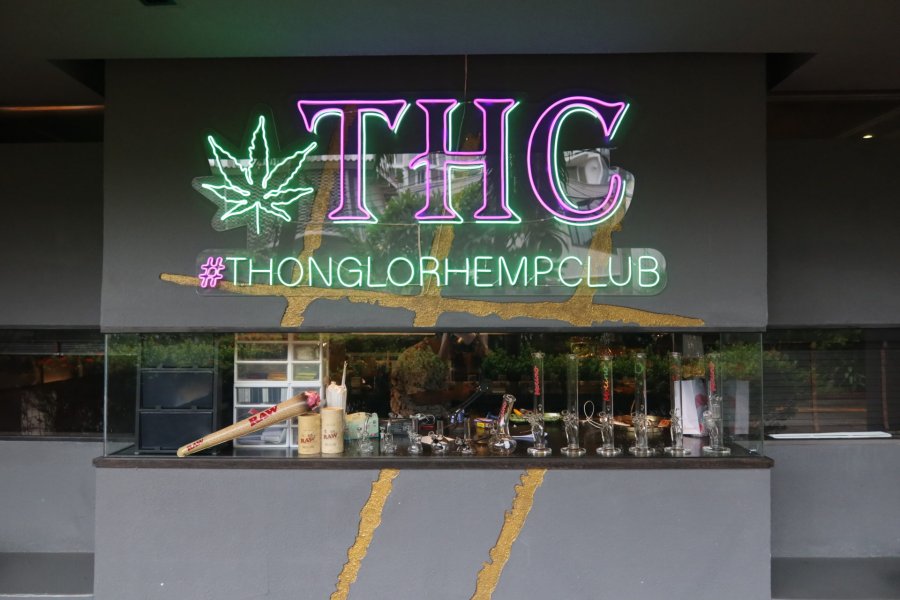 Photo: Thonglor Hemp Club / Courtesy.
Calling themselves the first cannabis dispensary on Thonglor, Thonglor Hemp Club, or THC, sells six strains by the gram ranging from B650 for Dosidos and Kerosene Krash to B800 for Truffle Cake.
65/3, Soi Thong Lo 20, 062-663-4128. Open daily, 11am-10pm.
Cannabangka
Photo: Cannabangka / Courtesy
A vintage Nordic furniture store and cafe opened a shop stocked with a handful of strains with prices that range from B600 to 800. Owner Por told Coconuts all buds are organic and grown indoors.
4 Rama IX Soi 48, Suan Luang (Opposite The Nine Bangkok). Open daily 11am-9pm
Tortuga
Photo: Tortuga / Courtesy
A hangout spot for F&B, art, and board games, now selling six strains grown on organic soil from Germany. The cheapest are indica-dominant hybrids like Banana Daddy at B550 per gram. Discounts are available for purchases of 3.5 grams.
See Tortuga's Facebook page
262, Soi Chulalongkorn 11, 098-305-7057. Open daily, 10am-2am.
RoLoft
Photo: Roloft / Courtesy
Robot-themed cafe, located near Kasetsart University, selling a plethora of strains with homegrown buds starting at B555 and American-engineered varieties at B888. As of July 5, customers could buy three pre-rolled joints for B1,000. They also sell edibles.
2308/17, Phahonyothin Rd., 0883408997. Open daily, 11am-11pm.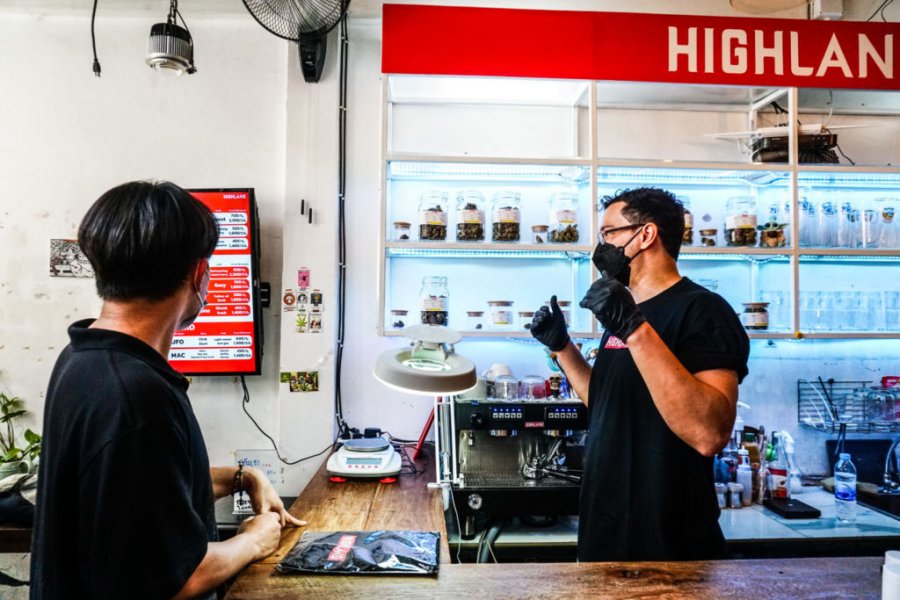 Operated by Thailand's premier legalization advocacy group, Highland Cafe offers a handful of strains starting at B450 a gram all the way up to B700. Order 3.5 grams of any of the cafe's strains starting at B1,400.
See Highland's Instagram page
12/7, Lat Phrao Road, 087-330-8506. Open daily, 4:20pm-12am.
Sukhumweed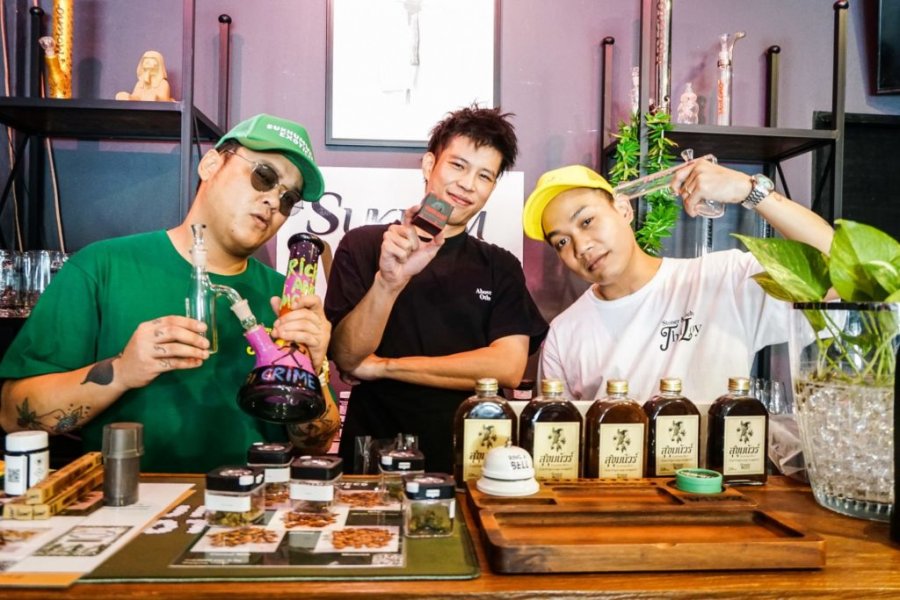 From left, Soranut 'Beer' Masayavanich, Parin Tongwaranan, and Siraphop 'Non' Rahong pose for a photo at Sukhumweed dispensary. Photo: Chayanit Itthipongmaetee / Coconuts Bangkok
Founded by child actor-turned-weed cultivator Soranut "Beer" Masayavanich, a one-stop weed shop. Minimum orders for imported bud are 3 grams to 3.5 grams, starting at B1,750. Gear ranging from bongs, rolling papers, pipes, and grinders are available.
See Sukhumweed's website
Soi Sukhumvit 42, Rama IV Rd., 063-928-1888. Open daily, 2-9pm.
Chopaka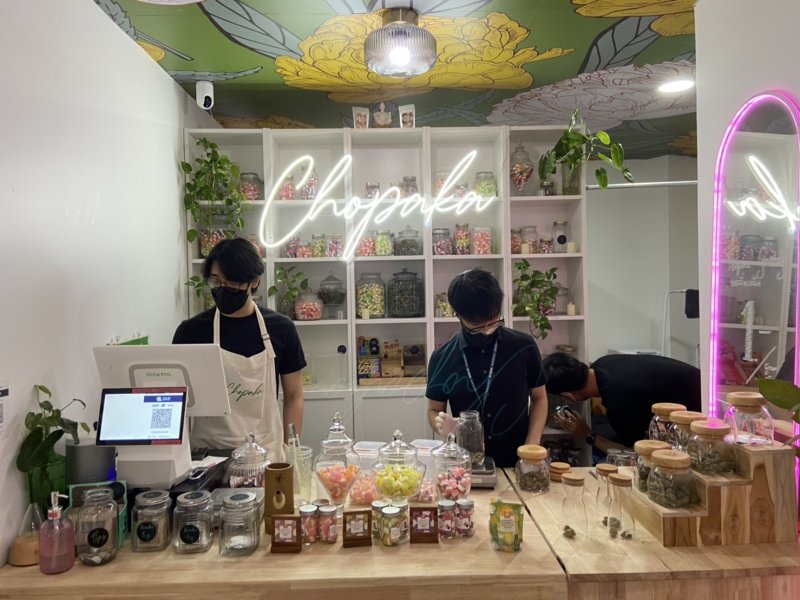 Opened by Kitty Chopaka, formerly of Highland, bud sold ranging from B555 to B888. Note: weed only sold 10am to 4:20pm, Monday-Thursday, and 4:20pm to 10pm Friday-Sunday. Rolling papers, storage jars, and gigantic wooden bongs also available.
See Chopaka's website
423/425, Sukhumvit Rd., 099-145-9679. Open daily, 10am-10pm.
Medical Cannabis Shop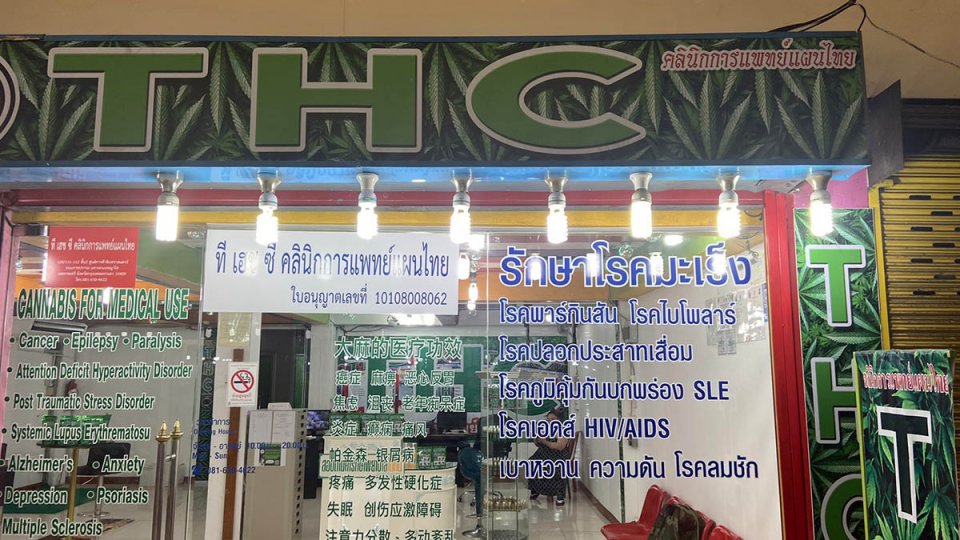 Socialite and provocateur Leena Jungjunja has been selling THC-loaded products since 2019. The second floor is marketed as a medical clinic for patients struggling with pain. She sells a variety of CBD products, THC sprays, and weed from B500 per gram.
2/F, Indra Square, 0816304622. Open daily, 10am-10pm (Clinic open daily, 10am-6pm).
Leaf Cannabis Cafe
One of the first places selling CBD-based products, the menu now includes bud starting at B600 per gram (B800 if ordered online). Apart from weed, a CBD menu has brownies, donuts, cookies, popcorn, jellies, as well as CBD and THC oils.
See Leaf Cannabis Cafe's Facebook page
470, Soi Suan Phlu, Sathorn, 02-007-6699. Open daily, 9am-7pm.
Bong Party
Photo: Bong Party / Facebook
Long the go-to place for smoking gear, weed strains at prices ranging from B400-800 now sold here. Massive inventory of cleaning brushes, grinders, rolling paper and bongs upon bongs – made from glass to more unorthodox designs like R2D2s, dicks, etc.
See Bong Party's website
5/6, Wang Ngam Alley, Nong Bon, 089-130-8808. Open daily, 1-9pm.
N' Louis' Happy Buds
A weed truck on Khaosan Road? The tourist hotspot can now easily buy some weed at the parked green-colored truck parked located at Beer Buddy. The truck opens irregularly, at 7pm to midnight.
See N' Louis' Happy Buds' Facebook page
181, Khaosan Rd. Open daily, 7pm-12am.
Sensii
The name is a play on Spanish word sensimilla – seedless female buds. While its stock of strains is being finalized, prices will range from B500-600 for mid-range herb, B800-1000 for top-shelf product, and over B1,000 for rare and exotic strains.
Tortilla Torquemada, 41/1, Sukhumvit Rd., 065-237-3307. Open Tues-Sun, 12-9pm.
Four Twenty
The shop launched with 10 mostly indica-dominant hybrid strains such as Girl Scout Cookies and Gorilla Glue. Prices start at B420 per gram and come in amounts ranging from 1-5 grams. Pre-rolled joints sold for an additional B100.
Manfarang Restaurant, 12/3, Soi Sukhumvit 22, 095-495-1820. Open daily, 10am-12am.