Phuket island is one of the most beautiful destinations in Thailand, recognized for its stunning beaches, but what you may not realize is that there are about 16 major beaches along the west and south coasts.
What is the distinction between each beach?
Is it necessary to visit every beach?
I don't think so, unless you have a lot of time. However, as a travel blogger, I want to see all the beaches so that I can truly review the differences and provide feedback.
For those who may not have enough time to see them all, I will explain the differences so you can decide which ones best suit your travel style, peaceful or crowded beaches.
In this post, I will review the beaches based on my personal experiences that I just visited Phuket in December 2021.
This is Part 1 which I can only explore 8 beaches at first because I can't take long annual leave (I work full-time in a company, tons of work).
>>> Here is Part 2 for another 8 beaches review
Hope you enjoy my honest reviews and the photos.
Note 1: Thailand is still in the COVID situation and not completely open to visitors during my visit, thus it was quieter than normal. But I still can realize which beaches are peaceful or crowded from the surrounding environment, such as hotels, restaurants, bars, food vendors, beach activities, and parking lots.
Let's start with the Map of Phuket
As you can see, most of the beaches are located on the west coast of the island, and a few in the south. So, how about the east coast? I'm not sure, I haven't had a chance to visit yet… lol
Actually, according to my research, the east coast doesn't have beautiful beaches due to its geometry. Muddy beaches and mangrove forests may be found along the coast.
Before I begin, you should be aware that the island is quite large. From Phuket International Airport to Phuket Old Town, it will take approximately 45 minutes by car or one hour by bus.
I opted to rent a car to make it easier to go around, but it is a bit pricey, 800-1000 THB/day. If you rent a motorbike, 200-300 THB/day, but make sure you're confident riding it because some of the terrains are steep.
Most foreigners I see ride motorcycles, and I honestly don't know how you guys got taught and skillful.
Phuket Beaches Review - Part 1
The is the quietest beach among all I've visited on this trip. It locates on the farthest north of Phuket, so it's quite remote from other attractions.
You need to drive a detour from Phuket Airport because there is no road along the shore for a shortcut. Approximately 20 km away, it takes about 30 minutes.
The beach is clean with fine-grained sand, the water is decent but not crystal clear.
I went there in the morning, so I'm not sure if it's because of the high tide or not, the beach is long but narrow.
I saw a restaurant nearby the parking area and a camping hotel (or something like that). However, because it's a 2 km long beach, so there could be more shops but I didn't walk that far though.
If you like a peaceful beach and can choose your own spot for chilling out privately, Sai Kaew beach suits you. But the huge downside is its location, the beach is distant from town and other attractions.
Mai Khao beach is the closet to Phuket International Airport and it is popular among Thais because of its uniqueness.
Other beaches people expect warmth of the sun, crystal clear water, soft sand underfoot, sound of the waves, water sports, and so on.
But Mai Khao Beach people come to capture a beautiful shot of themselves with an airplane landing. This is what people expect and make the beach different from other destinations.
Of course, I come to the beach because my girlfriend has been asking for that shot for years. (Now she is happy…haha)
In order to get to the plane spotting, you need to park your vehicle outside. There is a large parking area, and then you take a three-wheeled motorbike (Not a Tuk Tuk, it's a motorbike taxi with a sidecar) to the spot, which costs 20 baht per person per ride.
When you arrive at the beach, you will see people gathering at one place, that is the right spot for the shot.
Airplanes keep coming every 10-15 mins, or maybe up to 30 mins if you're unlucky.
Apart from the plane landing moment, the beach is pleasant though busy. What I enjoy is the experience of riding a three-wheeled motorcycle, which is uncommon in Thailand nowadays.
Nai Thon beach is my most favorite of the eight beaches I visited on my trip. Because I like a quiet beach with fewer interruptions from human activity.
There are no sun-loungers and umbrellas, water activities, or beach bars and restaurants, thus the beach is completely natural.
I saw some families bring their food and belongings to set up their picnic location in the shade of the pine trees in the back. So, if you want to spend hours on the beach, I suppose you should bring your own food and water.
Without or less commercialized, the beach is so clean, water is transparent even the sand is not white as on other beaches, but the light brown grains are fine and soft.
There are some rocks, but they are at the beach's edge, therefore it's totally fine for me.
However, Nai Thon beach is long, I didn't walk all the way down the beach to explore everything but if you've been to a commercialized beach, you'll notice it right away. So, no, this one isn't. These are why I love Nai Thon beach the most.
Bangtao is the longest beach in Phuket, approximately 5 km in length. But, to be honest, I visit Bangtao beach for the first time and you know what…I really can't find a way to get to the beach.
The road is parallel to the beach for kilometers, but I got no idea how to get to the beach because there are fences and people's property along the way. So, I just keep driving until the end of the road (following Google Maps)
Eventually, I find a good zone for parking and able to walk to the beach. This area is near Movenpick Resort. You just go a little further from this hotel and you will see it.
I also like Bangtao beach. It's similar to Nai Thon but a bit more people. You can see some beach chairs and umbrellas but only a few. So, it's still a pretty quiet beach.
However, since the beach is very long and I see from Google Maps that there are some beachfront restaurants as well. Therefore, some areas may be crowded and some may not.
But from the area I visit, it's still very peaceful.
The water is clear, the sand is whiter than Nai Thon beach. It's a very beautiful one.
The busiest beach among all the eight. A lot of people, but mostly foreigners. A lot of food vendors, sun-loungers and umbrellas.
The good thing is you don't need to bring anything to the beach because you can rent chairs and umbrellas for sunbathing. You can get good cheap Thai food; they are selling in the parking just behind the line of trees.
I'm not sure about the rate of beach chairs but according to other pages, it's about 200 baht per chair per day. However, better to ask the vendors before use.
The 800-meter beach is beautiful and clean. So, it's up to you whether you want peaceful or busy beaches.
Surin beach is surely busy and will gradually busier when Thailand Travel Restriction is more relaxed.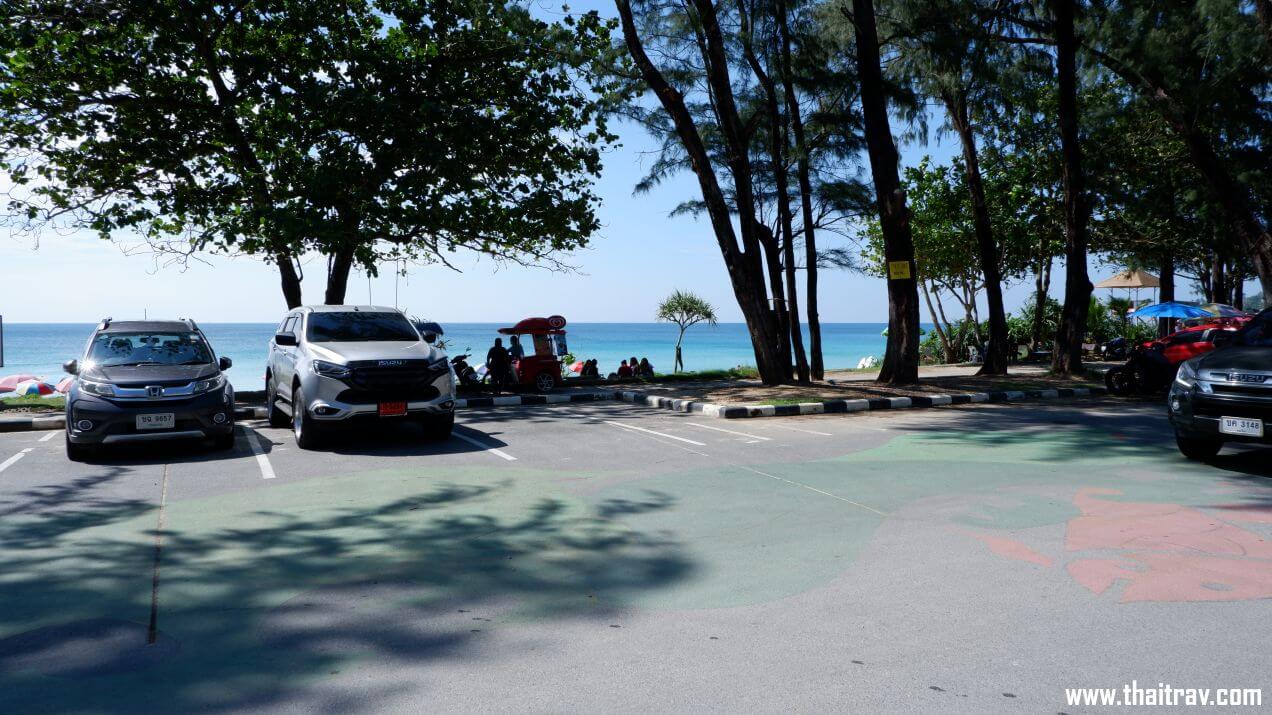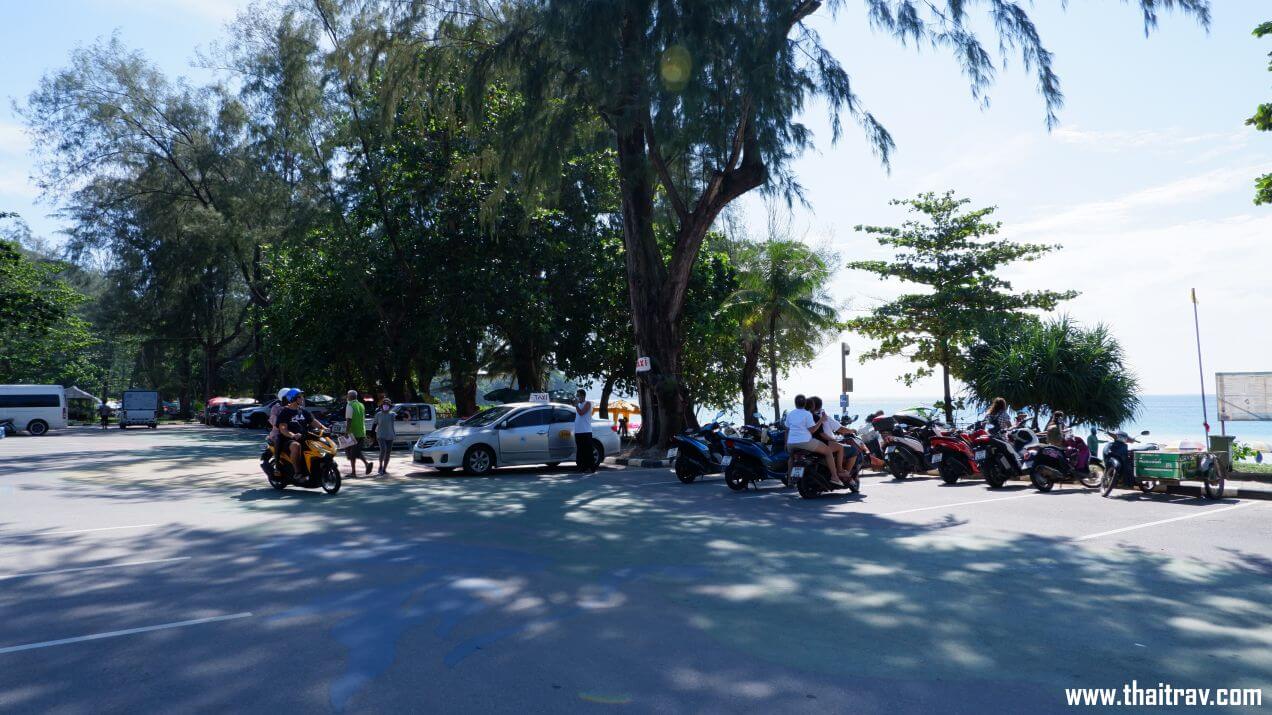 Kamala beach is similar to Surin beach in terms of sea, sand, food vendors and also a lot of sun-loungers, but a bit fewer people on the day I visited.
The main difference is there are beachfront restaurants and bars on Kamala beach, which Surin does not, I presume.
If you don't plan to stay in Phuket for that long, I think you can choose between Surin and Kamala beach since they are pretty much the same. So, you can have more time to visit other kinds of beaches and attractions.
However, if you love eating, drinking and watching the sunset on the beachfront with a lot of people, there is a place named Lillo Island Restaurant & Bar on Kamala beach. I didn't visit it myself but seem to have the best Google Review among others, and you might need to book it in advance.