Buying Marijuana Seeds in Thailand 2022
Laws on Buying and Growing Marijuana Seeds in Thailand. Growing Tips, Recommended Strains, and the Best Seed Banks That Ship to the Land of Smiles Buying Marijuana Seeds in Thailand Cover Photo bangkok, clinic, cbd products, thc, medical cannabis seeds, grow, thai, weed, license, seed, buy,delivery, online rolling papers, bongs, cannabis shop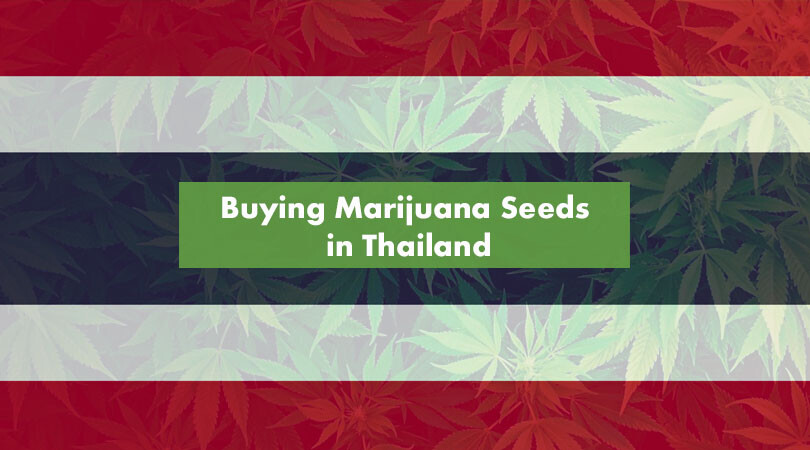 From epic white sand beaches to mouth-watering culinary dishes — Thailand is a quintessential paradise for cannabis users.
From its vibrant culture to ultra-potent landrace marijuana strains, it's no wonder why Thailand is known as the Land of Smiles. As the Thai government realizes the potential for the cannabis industry — it's clear that 2022 is Thailand's moment to shine.
If you live in Thailand and want to grow weed seeds at home — continue reading! Soon, you'll discover the best online seed banks that deliver to Thailand, top-shelf seed strains, grow tips, and Thailand's long history with cannabis.
Thailand is a world-renowned location for growing cannabis seeds.
However, years of strict regulations against cannabis have left its mark. Luckily, the times are changing as the Thai government looks to the future. Below, you'll discover a brief overview of the legality of marijuana seeds in Thailand.
Medical marijuana is legal

It's tentatively legal to buy cannabis seeds from online seed banks

It's tentatively legal to grow cannabis seeds or plants at home

Cannabis is tentatively decriminalized
As you can see — the path is paved for Thai residents to cultivate marijuana seeds at home. However, the situation is not as clear as it seems.
Continue reading below to discover the laws regarding cannabis cultivation, along with grow tips, recommended seed strains, and which seed banks to buy marijuana seeds.
Growing weed seeds in a tropical paradise isn't as easy as it sounds.
Overall, growing marijuana presents a wide host of issues to contend with in a highly humid environment. Therefore, continue reading below to discover essential aspects of growing cannabis seeds in Thailand.
When to Sprout Cannabis Seeds in Thailand
Thailand features a tropical climate.
Therefore, you need to pick the optimal season if you decide to grow marijuana seeds outdoors. Overall, the best time to germinate marijuana seeds outdoors in Thailand is between November and December.
November to February is known as dry months because they don't fall within the monsoon season. Depending on your location, nighttime temperatures may become relatively cool — especially in mountainous regions like Chiang Mai.
Remember, the monsoon season begins in mid-May — meaning you must harvest your cannabis crop before they get drenched.
Alternatively, indoor growers can germinate weed seeds year-round.
Issues to Consider When Growing Marijuana Seeds in Thailand
Next, let's discuss issues to consider when growing weed seeds in the Land of Smiles.
From thieves to inclement weather and everything in between, there's a host of problems that you may encounter while cultivating weed seeds indoors or outdoors. Here's a list of issues you may experience while growing cannabis in Thailand:
Thieves

Pests and disease

Inclement weather

Law enforcement
Below, we'll discuss each problem in detail and how to avoid these issues in the first place.
Law Enforcement
Although the Thai government recently decriminalized cannabis — you must be aware of law enforcement in your local community.
The decriminalization law does not go into effect until 120-days have passed since the bill passed. Therefore, growing cannabis before April 2022 is still considered illegal.
Therefore, it's in your best interest to keep your cannabis garden off the radar until then. Once the 120-day time limit is met, you must contact your local government and inform them of your cannabis garden.
With this in mind, always grow weed seeds in a grow tent. Additionally, your grow tent should be outfitted with a carbon filter and inline fan to reduce the odor of weed.
Ultimately, it's in your interest to avoid any complaints from your neighbor.
Lastly, it's wise to erect a tall fence if you plan on growing marijuana seeds outside. By doing so, you'll avoid prying eyes from looking into your weed garden.
Whether you grow cannabis seeds indoors or outdoors in Thailand — you need to be ready to defend your crop. Here is our two-part IPM (insect pest management) program to do just that.
First, always buy disease and pest-resistant seed strains from online seed banks. By doing so, you'll avoid any significant problems during the growing season.
Second, always harness organic pesticides and fungicides during the vegetative stage. Your garden will fight off minor outbreaks with ease by applying organic deterrents.
Remember, resistant seed strains and organic deterrents are top-rated methods to ensure a massive harvest of top-shelf buds!
Tips for Growing Cannabis Seeds in Thailand
Below, you'll find a few grow tips to ensure your marijuana garden gets off on the right track in Thailand.
Buy Cannabis Seeds From a Reputable Online or Local Seed Bank in Thailand
First, you must buy cannabis seeds from a reliable seed bank that ships to Thailand.
Once you find a reputable seed bank that delivers to Thailand — you've got the green light to find the best marijuana seeds that the industry has to offer. From award-winning strains to terpene-packed seed packs, you'll have hundreds of varieties to choose from.
Always remember to check customer reviews to ensure you're buying seeds from a reputable seed bank. Ultimately, online seed banks are your best chance to secure top-shelf strains for your upcoming garden in 2022.
Now, let's talk about the two primary types of seed banks that Thai residents can purchase marijuana seeds from.
Local Cannabis Seed Stores in Thailand
Given the 120-day waiting period for the new decriminalization laws to go into effect — there aren't any local cannabis seed stores in Thailand.
Before the decriminalization bill, home cultivation was illegal. However, the goal of the new cannabis reform is to get more Thai citizens involved in the cannabis industry to stimulate the economy.
Until the laws are clear — you cannot buy weed seeds from a local seed bank.
Online Cannabis Seed Banks That Ship to Thailand
Considering local seed shops' regulatory uncertainty, your best bet is to buy cannabis seeds in Thailand via online seed banks.
We recommend MSNL Seed Bank or Crop King Seeds because both seed banks offer quick stealth shipping to Thailand and accept different payment types. Furthermore, MSNL Seed Bank and CKS offer top-shelf seed strains at unbeatable prices.
However, we must reiterate — both MSNL Seed Bank and Crop King Seeds offer exceptional service and provide numerous easy-to-grow seed strains for your marijuana garden.
Buying Marijuana Seeds in Thailand Cover Photo bangkok, clinic, cbd products, thc, medical cannabis seeds, grow, thai, weed, license, seed, buy,delivery, online rolling papers, bongs, cannabis shop