DIRECTORY OF CANNABIS DISPENSARIES, CAFES AND CLINICS IN PATTAYA, THAILAND.
THAILAND WEED MAPS CITIES
Pot Hole Cafe Bar Dispensary
This is not only a dispensary, but also a nice and big reggae-style cafe and bar with a pool table! Their website has detailed menu info (unlike most places around), and customers rate Pot Hole highly for being a good place to chill and watch sports.
See Pot Hole Cafe Bar Dispensary's website
383/7-8, Moo 9 Soi Pot Hole Nongprue, 084-279-6383. Open daily, 12pm-12am.
---
Jacky Land
If you're looking for a weed cafe situation where you can sit on your laptop, drink some coffee or liquor (you do you!), and smoke some dope, this is your spot.
29 Soi Lengkee, 065-850-3433. Open daily, 10am-11pm.
---
The Old Weed Men
Easy to find and right on the Walking Street, this dispensary's got bud, oils, and a variety of edibles and beverages. Prices are on the 'higher,' side, according to customers.
See the Old Weed Men's Instagram page
84 Moo 10, 080-602-6175. Open daily, 24 hours.
---
The Elephant Pattaya Cannabis Store
This cool cannabis shop in south Pattaya has dark tones, light vibes, and markets itself a great place to get high and chill. The store sells quality weed and specializes in premium edible treats like cookies, brownies, and caramel popcorn.
See the Elephant Pattaya Cannabis Store's Facebook page
57/28, Moo 10, 092-662-5899. Open Sun-Fri 4:30pm-1am; Sat 4:30pm-2am
---
Big Bud Dispensary
A compact little shop offering a variety of strains, as well as stuff for your smoking needs like papers and bongs. They do delivery if you're looking for your weed to come to you.
See Big Bud Dispensary's Line account
33, 148-149 Soi Buakhao, 081-067-6961. Open daily 10am-2am
---
Blow Cannabis Coffeeshop Lounge and Bar
A spacious and bright shop complete with green astroturf and big plush beanbag cheers, Blow sells a variety of sativa and indica strains, as well as hybrids, plus pre-rolls. They've also got Hashish THC 20%, THC oil, and CBD oil.
316, Soi Buakhao, 080-003-7733. Open daily 12pm-12:15am
---
Candyland Pattaya
Self-labeled as a THC and CBD pharmacy and cafe, Candyland advertises their cannabis oil and cannabis flowers at the shop as 100 percent organic. If you're thirsty, they also sell coffee, tea, slushies, shots, and cocktails.
See Candyland Pattaya's Instagram page
168, Soi Boomerang, 092-210-3648. Open Mon-Sat 12-11pm; Sun 4-11pm
---
Cannabeach Shop
Cannabeach sells a range of smoking equipment like trays and bongs and they've got a variety of strains on offer, including but not limited to Top Shelf Truffle, OG Kush, Sour Diesel, Gorilla Glue, and Cherry Pie.
216, Pattaya Sai 2 Rd., 06-354-4962. Open daily 1-10pm
---
GanjaWitch Shop
A one-stop smoke shop ready to roll out the 'green' carpet for its customers, selling various strains and oils. For the DIY folk, they sell hemp and cannabis grow kits. And if you want weed merch, they've got socks, lanyards, keychains, and other weed-themed products for sale.
See GanjaWitch Shop's website
Tipp Plaza, 219 D4, Beach Rd., 065-674-1555. Open daily 11am-10pm
---
The Budtender – Ganja Dispensary
If you're looking to be spoilt for choice, check out The Budtender – Ganja Dispensary. They have 30 strains plus and counting on their menu, along with relevant products for your smoking needs like rolling trays and papers.
See The Budtender – Ganja Dispensary's Facebook page
594/14, South Pattaya Rd., 086-008-8199. Open daily 12-2pm
---
Speakeasy – Cannabis Revolution
A cannabis cafe in downtown Pattaya that lets you try before you buy. The shop has two lounge areas and boasts premium quality marijuana flowers, seeds, CBD oils, food, and accessories. With your weed, enjoy a cold beer, juice, or coffee along with music.
See Speakeasy – Cannabis Revolution's website
316/68, Soi Buakhao, 062-636-2065. Open 11am-10pm
---
Murphy's Pub Bud's & Spud's
Set up in a shamrock green Irish-style pub in south Pattaya, Murphy's where you want to go if you're craving a Guinness with your cannabis. They offer free delivery anywhere in Pattaya.
See Murphy's Pub Bud's & Spud's website
Soi Khao Noi.
---
La Choza Jomtien Beach
Set on Jomtien Beach, La Choza has a bright fireball red storefront with a long bar to drink and smoke at. Find Super Skunk, Gorilla Cookie, hashish, brownies, Mexican food and more. Delivery and pickup available.
See La Choza Jomtien Beach's Facebook page
Soi 9 Jomtien Beach, 064-948-2050. Open daily, 11am-12am
Medical Cannabis Now Available at Pattaya Clinic for Foreign Residents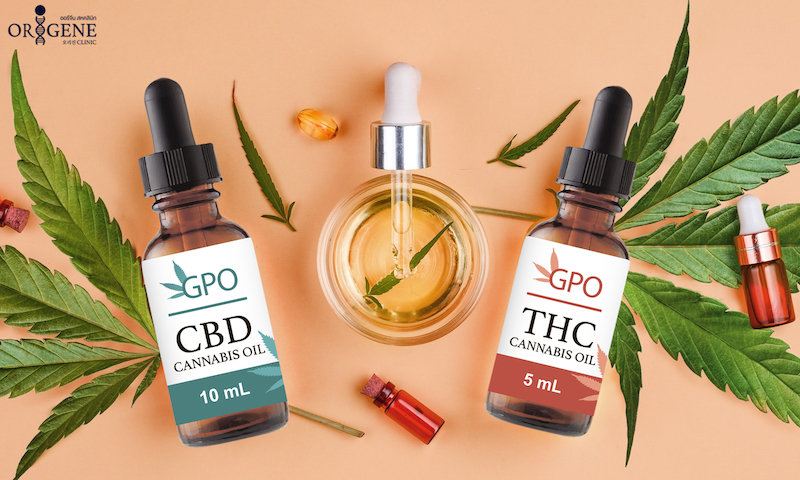 Medical Cannabis is now available to all patients residing in the Kingdom of Thailand.
Origene Clinic based in Pattaya, is the Official Center of Medical Marijuana in Eastern Thailand; managing five provinces along the eastern seaboard: Chonburi, Chachoengsao, Rayong, Chanthaburi, and Trat.
In association with The Government Pharmaceutical Organization (GPO), Origene Clinic can prescribe concentrated cannabis oils to all patients, Thai or foreign, residing in the Kingdom of Thailand.
Approved by the Thai FDA
GPO Cannabis Oil is formulated according to international standards, approved by the Thai FDA, and distributed only by licensed medical marijuana centers like Origene Clinic in Pattaya, Thailand.
Marijuana is a controlled narcotic in Thailand and prescribed as an alternative medicine. Patients who wish to try Medical Cannabis should register with Medical History that reflects qualification: Clinical Diagnosis Summary, Official Prescriptions, Medical Certificates, X-Ray/Scan Results, etc.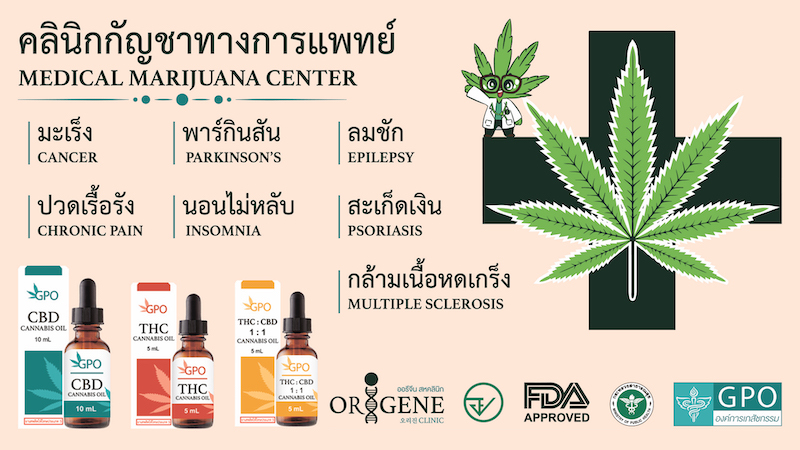 Required documents include Passport ID and Blood Test Results. Origene Clinic provides standard blood testing at 700 THB or patients may also submit their own blood test results taken within the past six months.
Required blood test results include: Complete Blood Count, Liver Function, and Kidney Function. This is not a pass or fail blood test and patients don't have to wait for the results. These results will serve as a baseline for comparison if any side-effects are developed after 6-9 months of continuous usage.
Limited Supply
Medical Cannabis is limited in supply. At the moment, only 500-3,000 bottles of GPO Cannabis Oil are available in the entire country. Patients are encouraged to register first and gain approval for the program. Medical Cannabis in some varieties are readily available and can be prescribed on the same-day of registration. Other types of medical cannabis may be back-ordered. Patients that have special needs may also be assigned a Que for first priority.
Origene Clinic
Tel: 065-998-9449
Monday-Saturday 10:00 - 19:00
http://origeneclinic.com/en/Medical-Marijuana/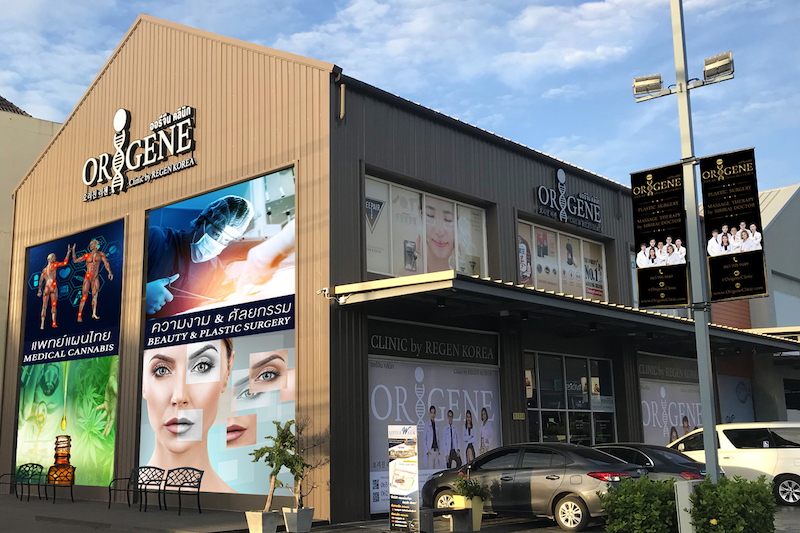 The information provided by Origene Clinic on thaivisa.com is for general informational purposes only. All information on the Site is provided in good faith, however we make no representation or warranty of any kind, express or implied, regarding the accuracy, adequacy, validity, reliability, availability or completeness of any information on the Site.
Under no circumstance shall we have any liability to you for any loss or damage of any kind incurred as a result of the use of the site or reliance on any information provided on the site. Your use of the site and your reliance on any information on the site is solely at your own risk.