LIST OF CANNABIS DISPENSARIES, CAFES, WEED SHOPS AND MAPS IN BANGKOK
The Best Cannabis Dispensaries in Bangkok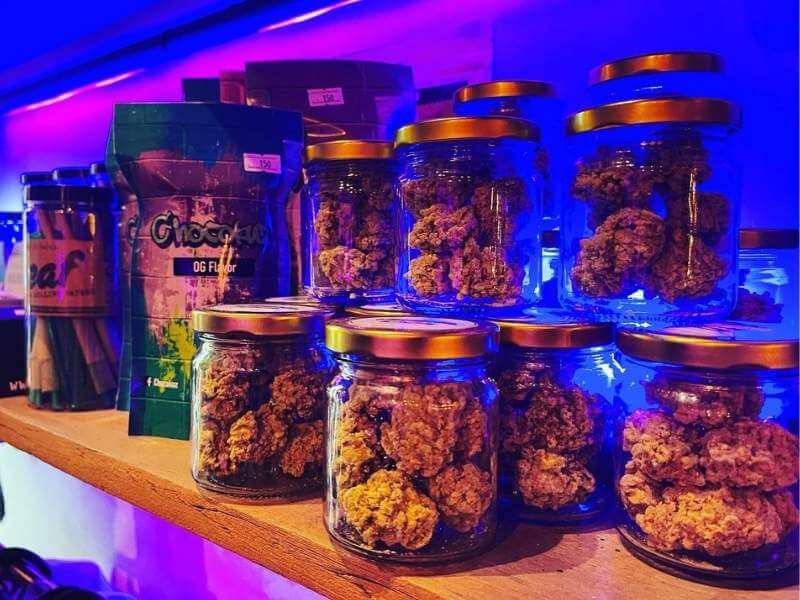 Buying and smoking THC marijuana are legal in Thailand as of 9:th June 2022. On this page, you can find the best cannabis dispensaries in Bangkok and more are expected to pop up in the coming weeks. Weed in Thailand is here to stay!
But before you go ahead and light up, there are a few things you need to know about the law. Smoking in public is still illegal and if your smoke is causing a disturbance you may be fined THB 25,000 or up to three years in prison. Of course, driving a scooter or car while being high is also against the law. The next day is fine.
We strongly recommend you to smoke at the coffee shop or bring your THC goodies back home.
Many of the dispensaries in Bangkok were traditional cafés before they turned into coffee shops. The people behind the shops have been active voices in driving the green change in Thailand. Visiting these shops and meeting like-minded is the best way to get into the cannabis scene in Thailand.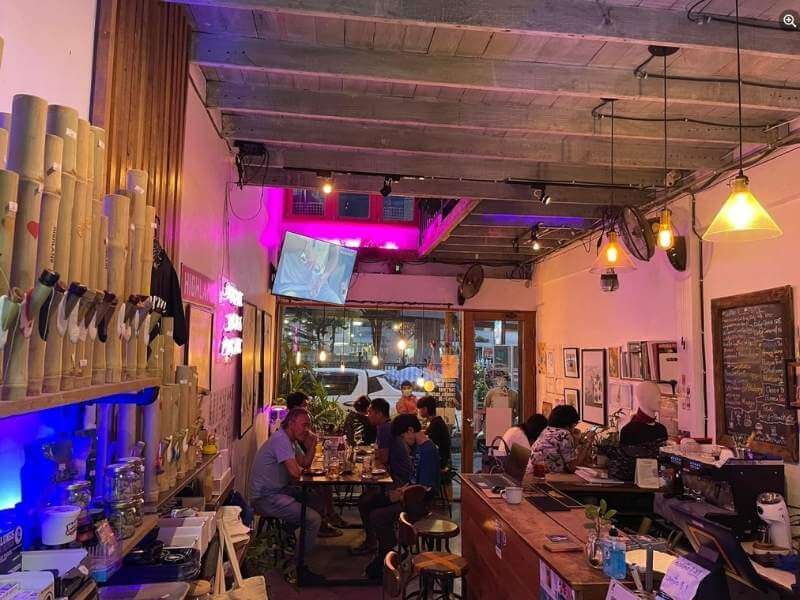 Opening hours: All days 11 am to 11.30 pm, except Friday 11 am – 7.30 pm.
Highland Café is located a 25 minute MRT ride from Asoke just next to Chatuchak Park and opened its doors in 2019.
The Highland Café is the headquarter for 'The Highland Network' which is a Bangkok based organization featured on Netflix in 2017 with a three parts documentary 'HIGHLAND – Thailand's Marijuana Awakening'. Shortly after this, the guys behind Highland started one of the most renowned dispensaries in Bangkok.
Housed in a chophouse you can chill out on two floors on quite uncomfortable chairs and stools, especially if you smoke one of their premier Indica strains which will couch-lock you. In the back, there's a proper beer bar with a wide selection of craft beers on tap and bottle. You'll find the typical selection of hot & cold drinks, along with sweet and savour Thai and Western dishes. On occasions, they have seating outside on the street, but we do not recommend you to light up to stay within legal limits.
Roll paper, smoke mixes and other accessories are available for sale in the shop. Highland Café is one of few shops stocking rolling papers from Ganjita, which are made out of hemp and are 100% eco friendly.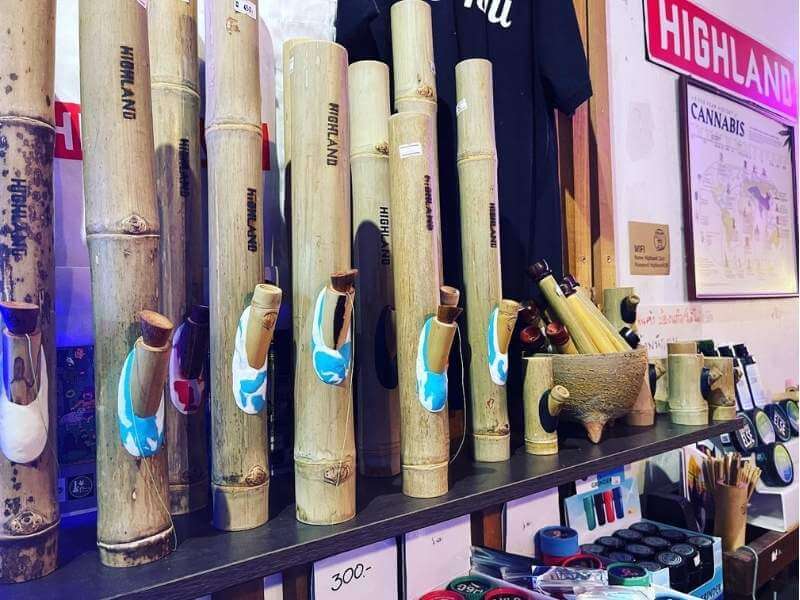 You can also shop for bamboo bongs which provide a very pleasant smoking experience. Generally more gentle for the lungs and with a more sluggish drag which provides a more linear experience compared to their glass siblings.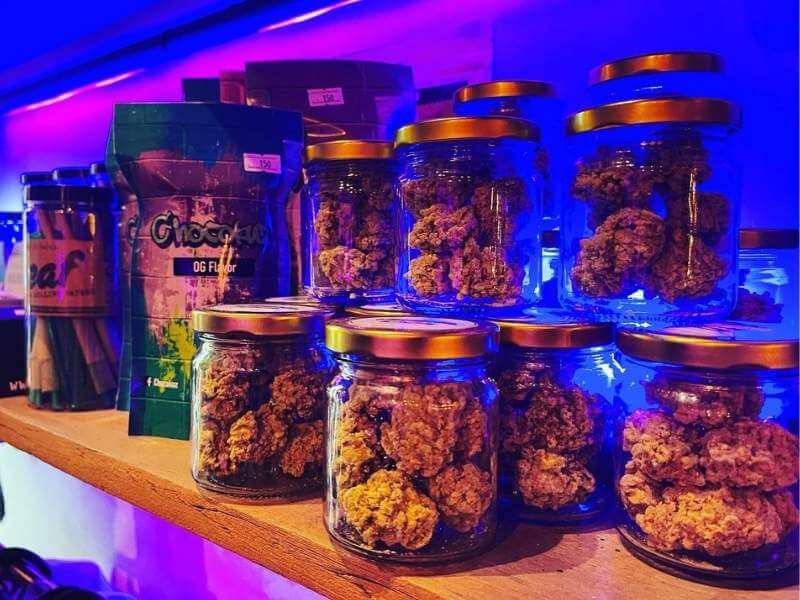 The selection of strains at Highland is among the biggest in Bangkok. All of the buds are grown locally and come at a reasonable price. The OG X Bubblegumis the Sativa strain to go for if you want to have some laughs, giggles and an uplifted stoned feeling. Meanwhile, if you don't have somewhere to go later that day we recommend trying out the new strain Peach Maraschino which is great for washing off a day's stress and bad thoughts.
Selections of strains
| | | | | |
| --- | --- | --- | --- | --- |
| Type | Strain | Effect | Smell | Price THB |
| Sativa | Marcud Sugercane | Alert | Sweet | 700/1g or 2,100/3.5g |
| Sativa | LSD25 | Appetite | Refreshing berry | 550/1g or 1,800/3.5g |
| Sativa | OG X Bubblegum | Alert | Citrus fragrance | 450/1g or 1,400/3.5g |
| Indica | Peach Maraschino | Calm, relax | Refreshing sweet berry | 650/1g or 2,000/3.5g |
| Indica | Rabbit Bananium | Clear mind, creative, chill | Gasy | 550/1g or 1,800/3.5g |
| Indica | Purple Afghani | Stone cold | Father of dank | 500/1g or 1,600/3.5g |
| Indica | Sunset Sherbert | Stoned | Skunk kush | 450/1g or 1,400/3.5g |
| Hybrid | UFO | Chill, alert | Light sweet & gasy | 600/1g or 1,900/3.5g |
| Hybrid | MAC (Miracle Alien Cookies) | Alert, day use, stoned if too much | Spicy, earthy, citrusy | 450/1g or 1,400/3.5g |
Sukhumweed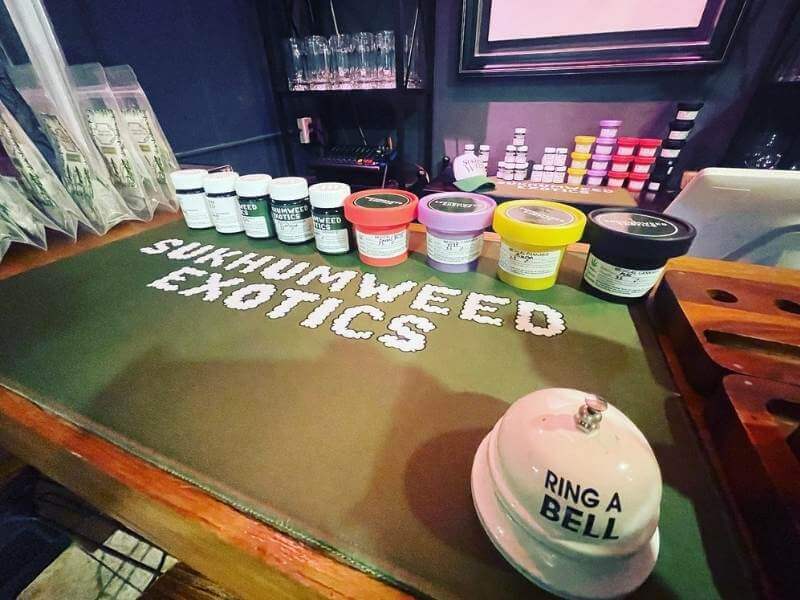 Click here for G-maps location.
Opening hours: Tuesday – Sunday 11 am to 9 pm, Mondays closed.
Sukhumweed dispensary is located only 200 meters away from Ekkamai BTS station, a prime location in downtown Bangkok. The gang behind Sukhumweed are the true cannabis connoisseurs of Thailand. Their speciality is regenerative organic farming by creating living soils and nutrients to produce the most potent weed on the market. And oh boy, make sure you have cleared your calendar before you step into their kingdom. Sukhumweed keeps 10 different strains on the shelf which some are pre-rolled and a range of smoke accessories, as well as some branded clothing.
Sukhumweed is purely a dispensary and does not sell any food or beverages. It is found on the ground floor a small chophouse just opposite Gateway Ekkamai. Here, you can choose between several finely grown strains from farms in the area of Nong Khai in north-eastern Thailand.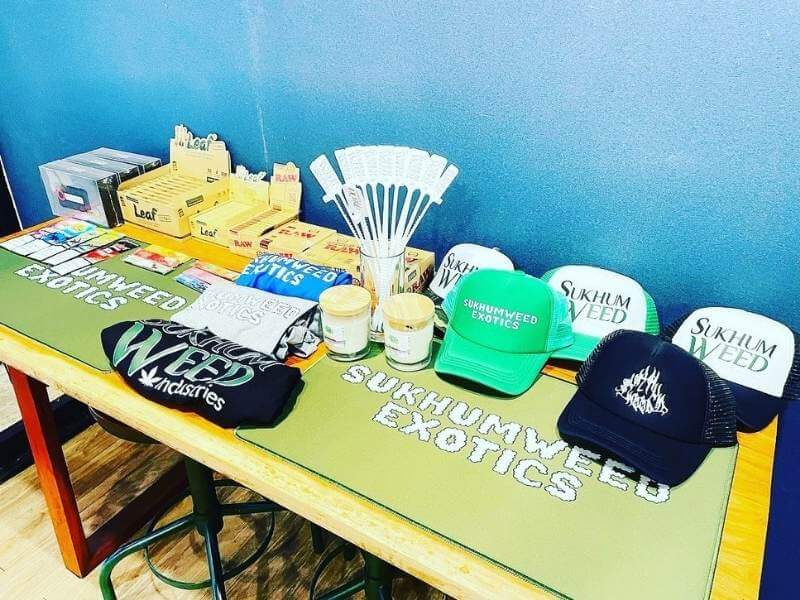 Soranut Masayavanich 'Beer' is the CEO & Founder of Sukhumweed Industries and has been a cannabis legalization advocate his whole life. He has travelled the world to learn about the topic; of how to grow weed with respect for cultural traditions, the people and the soil. Beer is not your typical 420-buddy but a walking Weedopedia. So take a chance to ask him questions if you're lucky to meet him.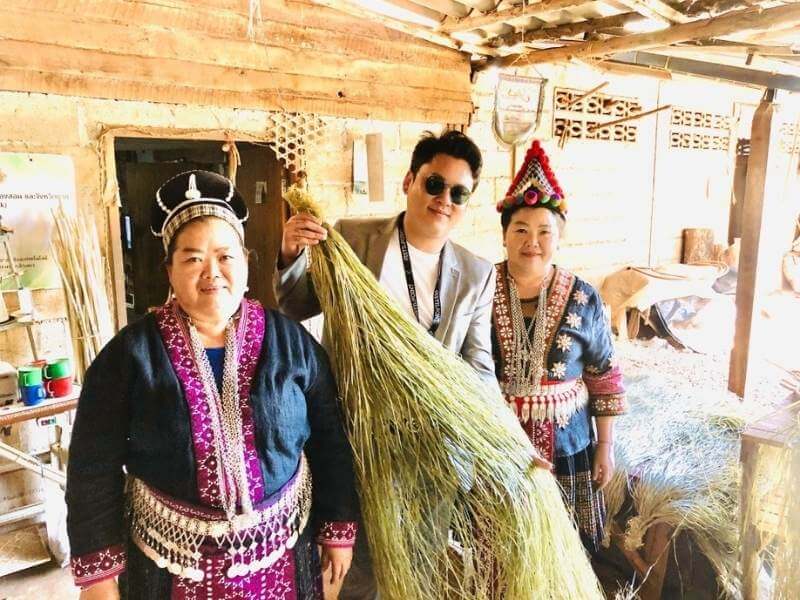 Hmong people are one of Thailand's ingenious groups that have used cannabis for thousands of years for clothing, ropes, medical and much more. Growing Amsterdam and California strains outdoor in Thailand is not an easy task. Knowledge sharing between Sukhumweed Industries and the Hmong tribe is one of the factors which has led to the success of Sukhumweeds strains. In fact, the ethos of Sukhumweed is to support farmers and to improve their livelihood through cannabis.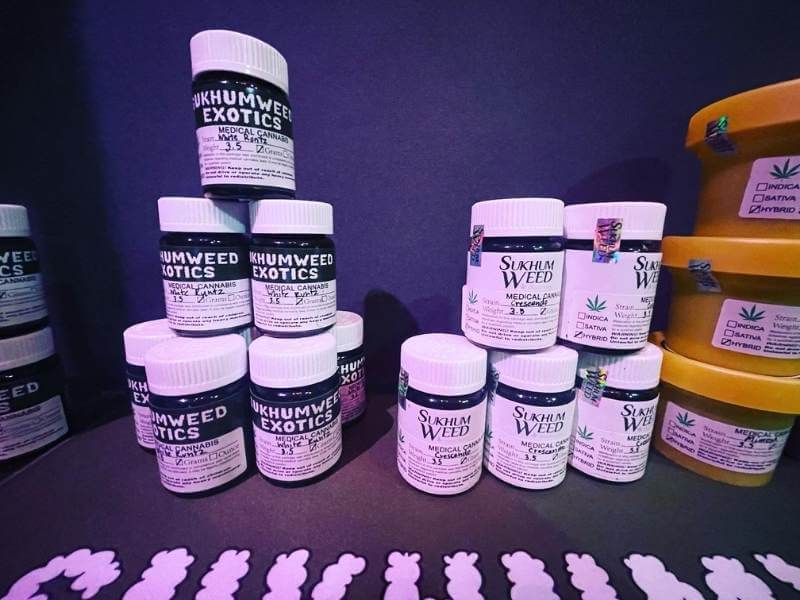 With all this in mind, you will be greeted by a wide range of potent Hybrids, Sativa and Indicas at Sukhumweed dispensary.
If you're having a night out we can recommend investing in the hybrid RS11. After a few puffs, your anxieties are blasted away and replaced with fun conversations. If you've had a long and dreadful day we recommend Zkittlez which is great for reducing stresswith its relatively high amount of CBG.
Selections of strains
| | | | | |
| --- | --- | --- | --- | --- |
| Type | Strain | Effect | Smell | Price THB |
| Hybrid | MAC | Alert, day use, stoned if too much | Spicy, earthy, citrusy | 3,000/3.5g |
| Hybrid | RS11 | Talkative, uplifted, happy | Flowery, citrus, sweet | 3,000/3.5g |
| Hybrid | Jealousy | Mentally relaxed, physically energized | Nuts, pungent, pepper | 3,000/3.5g |
| Hybrid | Cereal Cookies | Relaxed, aroused – smoke too much and very stoned | Vanilla, butter, sweet | 3,000/3.5g |
| Hybrid | Mimosa | Energetic, uplifted, happy | Orange, citrus | 3,000/3.5g |
| Hybrid | White Runtz | Tingly, relaxing | Peach, citrus | 2,800/3.5g |
| Indica | Slurricane | Sleepy, relaxed, hungry | Berry, grape, blueberry | 2,450/3.5g |
| Hybrid | Crescendo | Tingly, happy, aroused | Vanilla, violet, rose | 2,000/3.5g |
| Indica | Zkittlez | Relaxed, sleepy, hungry | Grapefruit, grape, berry | 1,750/3.5g |
| Sativa | Thailoy | Happy, talkative, relaxed | Earthy, nutty | 250/1g |
Online weed shops serving Bangkok
As of 9th June, Bloom is proud to present a partnership with Sukhumweed Industries!
This means you can from the comfort of your home buy marijuana online and pay with a credit card or Thai mobile banking. We ship all over Thailand with 1-2 days delivery. You will find the same premier selection of buds at our online store as you would by visiting the Sukhumweed dispensary.
If you have any contributions to the list of the best cannabis dispensaries in Bangkok, please contact usand we'll pay them a visit!