Cannabis Clinics in Pattaya
The residents of Pattaya can get their dose of cannabis following the formal procedure set out by the government. If you are looking to get your hands-on cannabis in Pattaya, you need to be aware of a few things. Only get your medicine from offical cannabis clinic in Pattaya.
First, you can get cannabis only for treatment, it is prohibited to use marijuana to seek pleasure. Second, your eligibility depends upon the extent you fulfill the requirements stipulated in the formal cannabis acquisition process. Third, even if you are entitled to consume cannabis under the Thai government's laws, any possession or consumption of illegal cannabis may leave you to end up in jail or face a financial penalty.
To get pass the medical cannabis eligibility requirements, your medical condition needs to fall in a list of approved medical conditions. All patients suffering from medical conditions listed in the approved medical conditions such as cancer, migraine etc., can seek medical marijuana to treat their symptoms.
All the patients who fulfill the first condition need to see a qualified physician. The physician would certify their medical condition and prescribe medical marijuana for the treatment of their symptoms.
Having a doctor's certificate, patients need to visit one of the designated clinics located in Pattaya. The
cannabis clinic
is the final step in this heavily regulated cannabis acquisition process.
Currently, there is only one cannabis clinic which dispenses medical cannabis to meet the needs of patients looking to use cannabis as remedy against their health conditions.
The location and contact details of the Origene Clinic Pattaya is listed below.
Origene Clinic Pattaya
, 8/114 Moo 6 Sukhumvit Road, Muang Pattaya, Amphoe Bang Lamung, Tel: 0659989449, Email:
info@orgeneclinic.com
Knowledge of the local cannabis laws
For smooth, safe, and stress-free cannabis consumption, marijuana enthusiasts need to be aware of local laws governing the use of the plant. Given the harsh anti-drug past, the Thai government regulates medical marijuana consumption to avoid any potential misuse.
The basic premise that shapes the outlook of marijuana consumption laws stems from the government's conviction; cannabis is a just medical remedy, not a substance to seek pleasure. Moreover, the laws reflect the intent and desire of the regulators whereby they want eligible people to only use cannabis available through legal channels.
Reflecting authorities' strong regulatory intent, new Narcotics Bill stipulates any consumption in violation of the provisions of this law may result in a one-year jail term or a financial penalty of 20,000 baht (USD$ 600).
Tourists visiting Pattaya
Any of the tourists visiting
Pattaya
also require complying with the provisions of Narcotics Bill. They can have marijuana only in the form approved by the Ministry of Health. Any violation may see their stashes are being confiscated.
Upon arrival into the country, foreigners are advised to get their cannabis approved following FDA set procedure. Tourists just like Thai nationals are required to show their medical certificates. Therefore, officials suggest tourists should carry their medical certificates with them and show them to the customs officers upon their arrival in the country.
Any departure from the laws of the land regarding cannabis possession or consumption may lead foreigners to face fines and persecutions. The fact that Thailand is the first far east nation to legalize the cannabis should not send you under the illusion that cannabis possession and consumption in the country is a matter of personal choice.
Cannabis legalization is heavily regulated in the country. In the best interest of foreigners visiting the Pattaya, they should ensure they are duly following the laws governing the acquisition and usage of cannabis.
Medical Cannabis Now Available at Pattaya Clinic for Foreign Residents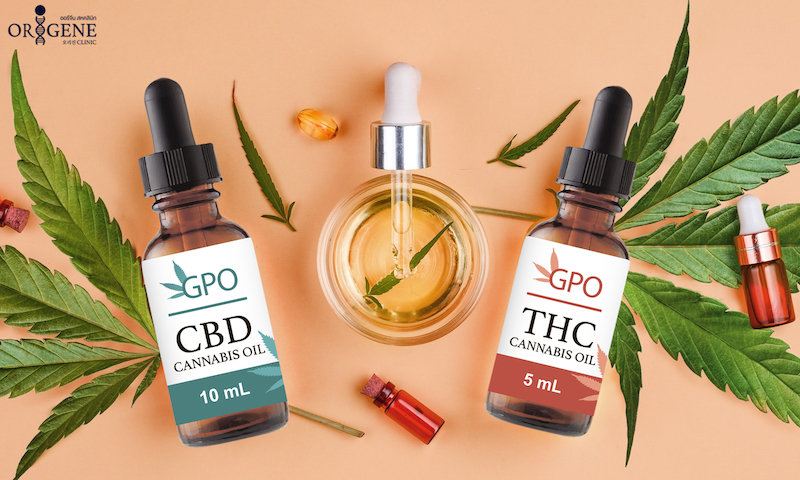 Medical Cannabis is now available to all patients residing in the Kingdom of Thailand.
Origene Clinic based in Pattaya, is the Official Center of Medical Marijuana in Eastern Thailand; managing five provinces along the eastern seaboard: Chonburi, Chachoengsao, Rayong, Chanthaburi, and Trat.
In association with The Government Pharmaceutical Organization (GPO), Origene Clinic can prescribe concentrated cannabis oils to all patients, Thai or foreign, residing in the Kingdom of Thailand.
Approved by the Thai FDA
GPO Cannabis Oil is formulated according to international standards, approved by the Thai FDA, and distributed only by licensed medical marijuana centers like Origene Clinic in Pattaya, Thailand
Marijuana is a controlled narcotic in Thailand and prescribed as an alternative medicine. Patients who wish to try Medical Cannabis should register with Medical History that reflects qualification: Clinical Diagnosis Summary, Official Prescriptions, Medical Certificates, X-Ray/Scan Results, etc.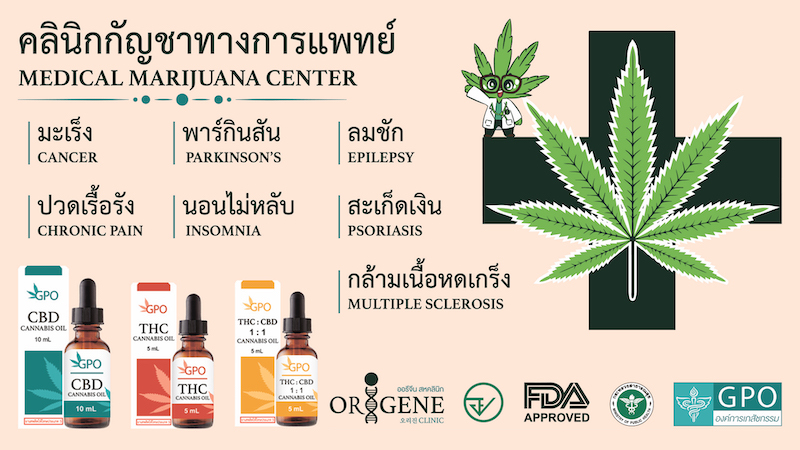 Required documents include Passport ID and Blood Test Results. Origene Clinic provides standard blood testing at 700 THB or patients may also submit their own blood test results taken within the past six months.
Required blood test results include: Complete Blood Count, Liver Function, and Kidney Function. This is not a pass or fail blood test and patients don't have to wait for the results. These results will serve as a baseline for comparison if any side-effects are developed after 6-9 months of continuous usage.
Limited Supply
Medical Cannabis is limited in supply. At the moment, only 500-3,000 bottles of GPO Cannabis Oil are available in the entire country. Patients are encouraged to register first and gain approval for the program. Medical Cannabis in some varieties are readily available and can be prescribed on the same-day of registration. Other types of medical cannabis may be back-ordered. Patients that have special needs may also be assigned a Que for first priority.
Register Online
http://origeneclinic.com/en/Register-Online/
Associated Fees
Doctor Fees: 300 THB
Blood Testing: 700 THB
Medical Cannabis: 300-5,000 THB
4th Quarter 2020 Promotions & Other Services
Health Massage + Vacuum Cupping: 1 Hour / 850 THB
Therapeutic Massage by Doctor: 1 Hour / 1,600 THB + FREE HERBAL STEAM SAUNA
PRP (Platelet Rich Plasma): 5 Time Course / 8,000 THB
Botox: 10 units / 500 THB
Filler: 1cc / 4,999 THB (Buy 3cc, Get 1cc Free)
Thread Face Lifting: UNLIMITED / 4,999 THB
Laser Hair Removal: 10 Time Course / 19,999 THB
Weight Loss Medication: 1 Capsule / 25 THB
Facial Treatment with MGF: 10 Time Course / 9,999 THB
Origene Clinic
Tel: 065-998-9449
Monday-Saturday 10:00 - 19:00
http://origeneclinic.com/en/Medical-Marijuana/
LINE:
https://line.me/ti/p/@efj0068w
Google Maps:
https://goo.gl/maps/DCxLge2TQfZiLBX5A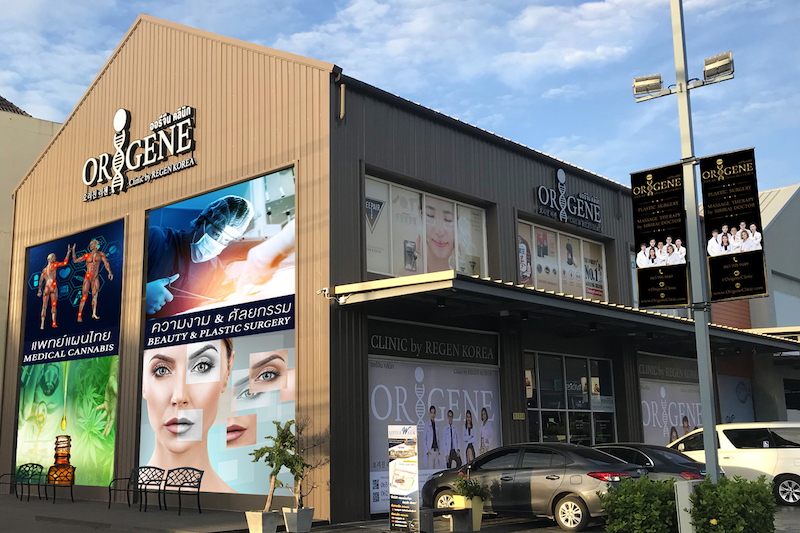 The information provided by Origene Clinic on thaivisa.com is for general informational purposes only. All information on the Site is provided in good faith, however we make no representation or warranty of any kind, express or implied, regarding the accuracy, adequacy, validity, reliability, availability or completeness of any information on the Site.
Under no circumstance shall we have any liability to you for any loss or damage of any kind incurred as a result of the use of the site or reliance on any information provided on the site. Your use of the site and your reliance on any information on the site is solely at your own risk.